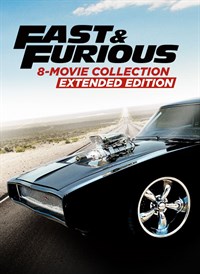 Original price was $104.92, current price $69.99
Original price was $104.92, current price $69.99

Tomatometer®
Audience
74 %
1,043,639 user reviews
Variety

3/12/2008 by Todd McCarthy

A gritty and gratifying cheap thrill, Rob Cohen's high-octane hot-car meller is a true rarity these days, a really good exploitationer, the sort of thing that would rule at drive-ins if they still existed.

Chicago Reader

3/12/2008 by Reece Pendleton

While few of the paper-thin characters register long enough to make much of an impression, Diesel carries the movie with his unsettling mix of Zen-like tranquillity and barely controlled rage.

AV Club

6/15/2006 by Scott Tobias

Returning the series to solid ground after 2 Fast 2 Furious leaned too heavily on cartoonish CGI effects, Tokyo Drift relies on old-fashioned stunt work that gives its best sequences a sense of brute physicality.

Time Out

1/26/2006

It doesn't matter that we know where it's going, what counts is that Cohen keeps his pedal to the floor and that his actors gun their lines with absolute conviction. Loud cars, fast music: this movie knows exactly what it's about.

Entertainment Weekly

6/28/2001 by Owen Gleiberman

Works hard to be exciting, but the movie scarcely lives up to its title.

Village Voice

6/26/2001 by Amy Taubin

Even those who've never heard of 'rice rockets' (Japanese imports souped up with computerized hydraulics and customized engines) might be charmed by the film's blend of kineticism, car-culture rituals, and hilariously flat-footed dialogue.

Salon.com

6/26/2001 by Andrew O'Hehir

May not have much of a brain, but it's definitely got a pulse.

Washington Post

6/22/2001 by Curt Fields

Diesel, Brewster and Rodriguez have undeniable charisma, while Walker is serviceable in his role.

Washington Post

6/22/2001 by Rita Kempley

The young and the restless with gas fumes.

USA Today

6/22/2001 by Susan Wloszczyna

Cohen ... at least knows how to keep matters moving and the action sequences exciting.

Slate

6/22/2001 by David Edelstein

The narrative takes a gutless turn and replaces the central (and exciting) conflict with a whole different set of villains.

San Francisco Chronicle

6/22/2001 by Mick LaSalle

It's a formula movie, to be sure, but it's Formula One.

Rolling Stone

6/22/2001 by Peter Travers

Rob Cohen, who last directed The Skulls -- ouch! -- can consider this one another career-killing skid mark.

Newsday

6/22/2001 by Jan Stuart

Guilt-free pleasure, the sort that wears its trashiness on its sleeve and exults in it.

New York Times

6/22/2001 by Elvis Mitchell

Such a drag that it ends up doing something hard to imagine: it makes you long for the soulless professionalism of a Jerry Bruckheimer movie.

New York Post

6/22/2001 by Jonathan Foreman

Yes, the whole thing is pretty dumb, and every character and every situation is familiar from better movies.

Los Angeles Times

6/22/2001 by Kevin Thomas

An action picture that's surprising in the complexity of its key characters and portents of tragedy.

Houston Chronicle

6/22/2001 by Bruce Westbrook

These gear-heads may spout car-talk like know-it-alls, but they sound no less nerdy than trivia-obsessed Trekkers.

Hollywood Reporter

6/22/2001 by Kirk Honeycutt

Has B-movie grit, with sexy young actors, even sexier cars and the smarts to realize a teen movie will only work if you empathize with its characters.

Detroit News

6/22/2001 by Susan Stark

The disconcertingly but finally happy surprise of the picture comes with the way it persuades you to its perverse point of view.
No one's rated or reviewed this product yet.