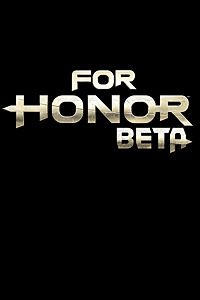 In For Honor™ Beta, enter the chaos of war as a bold Knight, brutal Viking, or deadly Samurai, three of the greatest legacies of warriors. Wield your blade against other players like never before with the innovative Art of Battle combat system. This Beta will feature a selection of Heroes playable on 6 maps in PVP and vs AI modes.
FOR HONOR™ BETA is currently not available.
Online multiplayer on Xbox requires Xbox Live Gold (subscription sold separately).
Description
The For Honor™ Beta will take you into the chaotic and believable battlefields of the brand-new, groundbreaking melee action game developed by Ubisoft Montreal in collaboration with other Ubisoft studios. THIS BETA WILL FEATURE: • UNIQUE WARRIORS TO MASTER Get your hands on a selection of our Knight, Viking, and Samurai heroes, each with their own weapon set and playstyle. • ENTER THE WORLD OF FOR HONOR AND FIGHT OTHER PLAYERS Fight for your faction with nine unique warriors on six different maps and four multiplayer modes as you master the Art of Battle in the Closed Beta. • INNOVATIVE ART OF BATTLE CONTROL SYSTEM Wield the weight of your weapon and feel the power of every strike through this system designed to put you in total control of your warrior.
Screenshots
Sign in with your Microsoft account to view. May contain mature content.
You may not access this content
Additional information
Developed by
Ubisoft Montreal
Developed by
Ubisoft Montreal
Approximate size
26.67 GB
Approximate size
26.67 GB
Age rating
For ages 17 and up
Age rating
For ages 17 and up
Installation
Install on your home Xbox One console plus have access when you're connected to your Microsoft account.
Report this product
Report this game to Microsoft
Thanks for reporting your concern. Our team will review it and, if necessary, take action.
Sign in to report this game to Microsoft
System Requirements
Minimum


Your device must meet all minimum requirements to open this product

| | |
| --- | --- |
| OS | Xbox One |
| Architecture | x64 |
Recommended


Your device should meet these requirements for the best experience

| | |
| --- | --- |
| OS | Xbox One |
| Architecture | x64 |
No one's rated or reviewed this product yet.
Most helpful favorable review
---
Great fun, could be repetitive.
For Honor has given me hours of fun already, and it is right up your alley if you enjoy medieval type games. For Honor has a unique combat system that will keep you on your toes, and constantly thinking about how you can best your opponent to take the victory. The 4v4 Dominion game mode is intense, exciting, and a blast to play with your buddies. The Faction War is pretty cool, but I feel like it could be expanded upon. Each Faction has 3 heroes, and they are all pretty unique. Some heroes are better than others, but overall they all can be good if used properly. The only downside I can see about this game is over time it could get repetitive. Luckily, this can easily be fixed with more heroes, maps, and interesting game modes. (more to do with the Faction War maybe?) In conclusion, pretty satisfied with this game.
253 out of 270 people found this helpful.
Most helpful critical review
---
Spamfest
All you have to do in this game is spam moves and push people off the edge. The blocking system is garbage as many times you block break they just spam light attack which makes it useless. certain characters(nubushi and berserker) are pains to play against. very simplistic fighting. and judging by ubis last games we shouldt expext much good unless you like p2w. DO NOT BUY FOR OVER 20$.
10 out of 10 people found this helpful.
Showing 1-10 out of 203 reviews
Sort by:
Sort by: Most helpful
Most helpful

Most recent

Highest rated

Lowest rated
Filter by:
Filter by: All ratings
All ratings

5 stars

4 stars

3 stars

2 stars

1 star
P
Reviewed By

Psychokilla6669

Xbox
55User Rating: 5 out of 5
Review title of Psychokilla6669

BEST MEDIEVAL GAME EVER

the combat system is challenging but after you get the hang of it the game becomes very addictive. every playable character in the beta is a beast and there's a character for every play style. I strongly recommend buying for honor when it is released, I will be

35 out of 41 people found this helpful.
U
Reviewed By

UltraGamer20160

Xbox
35User Rating: 3 out of 5
Review title of UltraGamer20160

good but severs are down

well its relaxing to play but the servers are down

100 out of 127 people found this helpful.
K
Reviewed By

KillERLuisD25

Xbox
55User Rating: 5 out of 5
Review title of KillERLuisD25

A much needed change

I love it its challenging and fun ideal for real gamers. So if you are looking for a game thats going to get your blood pumping from intense gameplay look no further.

12 out of 14 people found this helpful.
55User Rating: 5 out of 5
Review title of Bogshorn

great game but..

amazing gamplay great graphics however in a multiplayer match when someone leaves the game just pauses. it gets annoying also its not very fair when you can just be pushed off a cliff there should at least be a counter move for it but its not that big of an issue i still really enjoy the fun gameplay i rate it 5 stars because those are only minor gripes i have

17 out of 21 people found this helpful.
45User Rating: 4 out of 5
Review title of Cosechar

A Thoughtful Examination

While the servers are not the most reliable, the gameplay is unique and enjoyable. The combat is reminiscent of fighter games, namely the Soul Calibur series. It is exceedingly difficult to hold ground against multiple enemies and certain classes are far superior to others. I must mention that all classes are available to all players, Regardless of their chosen factions. The strategy of the game, in most game modes is like that of most MOBA games (Overwatch, Team Fortress 2, League of Legends, &c) and the other game modes are simple death matches. The game features unlockable equipment, abilities, and cosmetics that could give the game a longer life span, but could also make it more confusing or difficult to play the game.

10 out of 12 people found this helpful.
45User Rating: 4 out of 5
Review title of sklez

Good Game with small issues

All in all this a great game and has good content. However, it needs improvement on responsiveness on basic mechanics like block break counter. As it is now it is a fully predictive mechanic you have to know is comming beforehand. Rather than allowing players to see it and react like you would a block/parry. if the reaction time is increased to be more similar to that of a block I believe spammers will become less of an issue as well as the negative reviews of the player base that has adopted this tactic. I know it is a long review for a short complaint,but i wanted to elaborate on my only major complaint. Thank You

12 out of 15 people found this helpful.
D
Reviewed By

Dr Ziggalota

Xbox
35User Rating: 3 out of 5
Review title of Dr Ziggalota

Based on memorizing combos

This is more of a fighting game in armor than a swordplay game like Chivalry. The game is not very intuitive. Success is based on leaning combos and other idiosyncrasies rather than exploiting openings naturally created by your opponent's attacks.

4 out of 4 people found this helpful.
R
Reviewed By

Retro xPf

Xbox
55User Rating: 5 out of 5
Review title of Retro xPf

AWESOME

This game has such realistic mechanics and the graphics are absolutely BEAUTIFUL! I haven't felt this immersed in a game in a long time. You done good, Ubisoft. I hope this game will become very successful!

9 out of 11 people found this helpful.
B
Reviewed By

burn3r2025

Xbox
55User Rating: 5 out of 5
Review title of burn3r2025

enjoyed it

i enjoyed playng it kept things interesting thats for sure and i did encounter a few times where my block didn't register and i took the full damage but still it was fun and aside note to those still trying to access beta. BETA ENDED BEFORE THE GAME RELEASED IF YOU WANT TO PLAY IT GO BUY IT

6 out of 7 people found this helpful.
55User Rating: 5 out of 5
Review title of Draefyre

If you are losing, don't be a bad sport and leave.

This game is amazing! I thought it was going to be really hard but i picked up on the style fast. The only thing i dislike is that a lot of people leave when their team is losing. Pretty annoying especially when the whole team leaves and nobody gets xp. Players! PLEASE make this community a good one.

3 out of 3 people found this helpful.