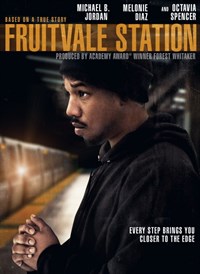 Tomatometer®
Audience
Arizona Republic

12/10/2013 by Bill Goodykoontz

Michael B. Jordan is simply brilliant in his portrayal of Grant, whom Coogler presents as a generally happy, if complex and somewhat troubled young man.

Chicago Sun-Times

12/10/2013 by Bruce Ingram

The intimacy of debut writer-director Ryan Coogler's approach to the film and the no-frills, believably real quality of the main performances combine to drive the senselessness of Oscar's killing home with visceral impact.

TIME Magazine

12/10/2013 by Mary F. Pols

Writer-director Ryan Coogler's [film is an] assured and evenhanded debut.

Denver Post

7/26/2013 by Lisa Kennedy

It's hard not to watch Fruitvale Station with a coiled dread... Yet, Coogler's greatest achievement may be in reminding us that Grant was a work in progress with people who loved him in spite of his flaws and because of his hopes.

Grantland

7/26/2013 by Wesley Morris

You wonder if Coogler would have felt freer had Grant somehow lived that night, if the director weren't put in a position where he felt the need to honor the dead by bringing him to dramatic life. But he believes in his ambition.

Globe and Mail

7/26/2013 by Geoff Pevere

We feel the death on the platform so acutely not because it's a stupid act of randomness, but hardly untypical racist violence, but because we've come to love this man.

Toronto Star

7/26/2013 by Linda Barnard

Michael B. Jordan (The Wire and Friday Night Lights) plays Oscar with the heart and compelling charm required to make us feel close to him.

Detroit News

7/26/2013 by Tom Long

It's a story of one young man's tragedy, a story that resonates with so many other tragedies. Oscar Grant wasn't some mere symbol; this film makes him flesh and, unfortunately, blood.

Seattle Times

7/25/2013 by Moira MacDonald

An eloquent memorial for a man who barely experienced life, and a haunting reminder of how quickly it can be lost.

Orange County Register

7/25/2013 by Michael Sragow

Empathy and authenticity keep you on the edge of your seat at Fruitvale Station.

Newsday

7/25/2013 by Rafer Guzman

Some of this narrative feels cliched, but Coogler and his actors make it work by leaning toward understatement.

Minneapolis Star Tribune

7/25/2013 by Colin Covert

"Fruitvale Station" isn't just a story of one family's tragedy, but a wounding snapshot of a society struggling somewhere between melting pot and battlefield.

Boston Globe

7/25/2013 by Ty Burr

It's a film to make you weep with sorrow and anger, and one of the most necessary films of the year.

Miami Herald

7/25/2013 by Rene Rodriguez

Whatever role prejudice have played a part in the shooting - Oscar and his friends were black, and the officers were white - Fruitvale Station refuses to turn the incident into a statement on race and divisiveness.

St. Louis Post-Dispatch

7/25/2013 by Calvin Wilson

Coogler immerses the viewer in Grant's world, creating empathy for his struggles while also examining the realities that limit his options.

New Yorker

7/24/2013 by David Denby

Fruitvale Station sums up Oscar's life, but the act of summing up can tell us only so much, since a young life is still a maze of promise and indecision.

ReelViews

7/23/2013 by James Berardinelli

By using a fly-on-the-wall approach, Coogler is able to tell his story in a straightforward style that gets the message across without seeming preachy.

Washington Post

7/19/2013 by Ann Hornaday

In naturalistic and unforced strokes, he allows Grant to exist as a complex, even contradictory human, inviting the audience simply to sit with his life, his loss and what they both meant.

Dallas Morning News

7/18/2013 by Chris Vognar

Fruitvale is easy to see as something more than a movie - a diagnosis, perhaps, or a part of that sticky vortex we call the zeitgeist.

Philadelphia Inquirer

7/18/2013 by Steven Rea

Oscar Grant had friends, he had a sister and a mother and a grandmother, a girlfriend, a child. In concise measures, Fruitvale Station shows us these connections, these bonds.
No one's rated or reviewed this product yet.