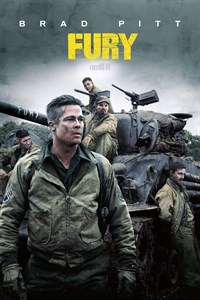 Tomatometer®
Audience
84 %
107,118 user reviews
Christian Science Monitor

1/5/2015 by Peter Rainer

An impressively solid World War II movie of the kind they don't make anymore.

Entertainment Weekly

1/5/2015 by Chris Nashawaty

While these orgies of violence are staged with tense, gruesome precision, they don't convey much beyond what we already know. Namely, that war is hell. Message received.

TIME Magazine

1/5/2015 by Richard Corliss

Pitt, who at 50 still looks great with his shirt off, has the gruff charisma to play a dauntless soldier with killer courage and a vestigial streak of humanity.

Associated Press

1/5/2015 by Jake Coyle

It's an "unflinching" account of war -- "unflinching," in quotes, because every moment of the film is composed to grind your face into the muck and be proud of itself for doing so.

Chicago Sun-Times

1/5/2015 by Richard Roeper

Pitt is at the top of his game, playing a man who has forgotten whatever he used to be and has wholly embraced his role in this war.

Toronto Sun

1/5/2015 by Bruce Kirkland

Led by Pitt, who sublimates his persona so deeply into Wardaddy that you can forget about his movie star baggage, the cast is exceptional.

New Yorker

10/20/2014 by David Denby

"Fury" is literally visceral-a kind of war horror film, which is, of course, what good combat films should be.

ReelViews

10/19/2014 by James Berardinelli

This is an intense movie, with taut, expertly depicted tank battles and a believable sense of camaraderie among the characters.

The Atlantic

10/17/2014 by Christopher Orr

In a sense, it succeeds too well in conjuring its own subject matter: heavy, mechanical, claustrophobic, and unrelenting.

Denver Post

10/17/2014 by Lisa Kennedy

Fury is irrefutably crafted. Over two hours long it is tense going, a sturdily acted affair. And yet.... As the author of this drama, Ayer has penned a work that takes us no place new or illuminating.

Grantland

10/17/2014 by Wesley Morris

A fatalism unites all of Ayer's movies, even his best film, End of Watch... This is the first of his movies in which that fatalism culminates in a state of grace I've never experienced in a war film before.

NPR

10/17/2014 by Chris Klimek

Fury is a big step up in sophistication. Where it elevates itself from being merely a believably grimy, well-acted war drama is in its long and surprising middle act.

Globe and Mail

10/17/2014 by Geoff Pevere

Fury is a war movie with balls of steel and marbles for brains.

RogerEbert.com

10/17/2014 by Peter Sobczynski

The end result, while technically impressive, is a dramatically bloodless affair, despite the gallons of gore on display.

New York Magazine/Vulture

10/17/2014 by David Edelstein

Though much of Fury crumbles in the mind, the power of its best moments lingers ...

Detroit News

10/17/2014 by Tom Long

"Fury" is a brutal film that too easily celebrates rage and bloodshed to no clear end beyond ugly spectacle.

Philadelphia Inquirer

10/17/2014 by Steven Rea

Fury presents an unrelentingly violent, visceral depiction of war, which is perhaps as it should be.

New York Post

10/16/2014 by Kyle Smith

I couldn't help suspecting that there's a pornographic leer to it all, a savage glee.

Toronto Star

10/16/2014 by Peter Howell

Attention to details give Fury heft and value, as does solid acting, but Ayer seems to lose his resolve in two scenes that are straight out of a Sgt. Fury Marvel Comics episode, or maybe a Hollywood script rewrite.

Los Angeles Times

10/16/2014 by Kenneth Turan

If memorable war movies mean something to you, open that book to a new page and add "Fury" to the list. It belongs there.
Showing 1-10 out of 1 reviews
Review title of Rennokyn

Unique action packed war film with unlikable characters

The film had excellent camera work with the tense action you want from a WWII movie, however it has it's flaws. When the first shots are fired in each firefight, you'll be on the edge of your seat until it's over. That's good, but when the action dies down, it leaves you with a couple scenes that can only be described as uncomfortable or unnecessary. I won't go into detail, but it left me wondering why I should care about the main characters if they're complete degenerates. It does justice to the ruthlessness of war, but completely shredding any reason to like the crew in the process. The violence and grit is intense, but the down time scenes don't bring much in the way of story. In fact the whole dinner scene could've been cut, or everything with Emma in general and replaced for a post-war transition back home as an ending. I really wanted a last report in with the CO by our "hero" but it never came, resulting in a lack of closure with him. A good war film, but lacking a proper end.

1 out of 3 people found this helpful.