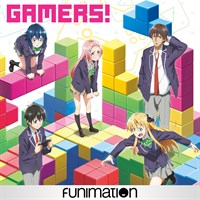 Available on
Xbox One
HoloLens
PC
Mobile device
Xbox 360
Description
Keita is a loner who joins the school's video game club and finds out he's in for more chaos than he bargained for!
Episodes
1. Keita Amano and Chapters of the Chosen
2. Tasuku Uehara and New Game +
3. Chiaki Hoshinomori and StreetPass Communication
4. Karen Tendo and Slump Days
5. Aguri and Communication Error
6. Gamers and Wipeout "Game Over"
7. Keita Amano and Karen's Best Entertainment
8. Erogamer and Watching Mode / Gamers and Half their Life Game
9. Chiaki Hoshinomori and Account Hack
10. Gamers and Next Stage
11. Gamers and Youth Continue
12. Gamers and Billing System Talk
Additional information
Duration
12 episodes (4 h 51 min)