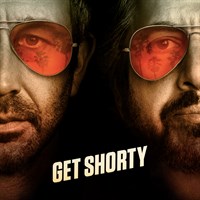 Available on
Xbox One
HoloLens
PC
Mobile device
Xbox 360
Description
Chris O'Dowd plays Miles Daly, the muscle for a crime ring in Nevada who tries to become a movie producer in Hollywood as a means to leave his criminal past behind and win back his recently-estranged family. There, he meets Rick Moreweather (Ray Romano), a washed up producer of low quality films who is desperately hanging on to the rungs of Hollywood relevancy and begrudgingly becomes Miles' partner and guide through the maze of show business. Along with his criminal associate Louis (Sean Bridgers), Miles attempts to keep his worlds from colliding as he balances the demands of filmmaking while keeping the suspicions of the crime ring's chief – and production bankroll – Amara (Lidia Porto) and her dangerous nephew, Yago (Goya Robles) at bay. Also involved in the production is ambitious studio executive April Quinn (Megan Stevenson), who started in the business as Rick's assistant, as well as Miles' beloved daughter Emma (Carolyn Dodd) – despite objections from Miles' estranged wife, Katie (Lucy Walters).
Episodes
1. What To Do When You Land
2. Dark Roast, Oat Milk, Two Splendas
4. What Else Did God Say?
6. Tomorrow They Light Me on Fire
7. Should Not Throw Stones
101. Get Shorty Season 3 Trailer
Additional information
Duration
8 episodes (6 h 54 min)