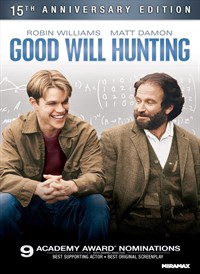 Tomatometer®
Audience
94 %
363,882 user reviews
USA Today

1/9/2018 by Mike Clark

The headline story from this slice of honestly earned sentiment is Matt Damon, who delivers the year's No. 1 breakthrough performance directly atop his agreeable high-profile turn in John Grisham's The Rainmaker.

Hollywood Reporter

12/5/2016 by Duane Byrge

The best thing about Good Will Hunting is not in its well-crafted, psychological symmetries but in the just-plain messiness of its humanity. It's rowdy, it's funny, it's heartbreaking - it rings of life.

Variety

2/5/2008 by Emanuel Levy

Towering performance by Matt Damon as a troubled working class who needs to address his creative genius elevates this drama way above its therapeutic approach, resulting in a zeitgeist film that may touch chord with young viewers the way The Graduate did

Observer

4/27/2007 by Andrew Sarris

The film works as a character-driven narrative because Mr. Van Sant and his co-screenwriters are not afraid to unlock the psychological mysteries of their five major characters with clear and concise dialogue.

Time Out

2/9/2006 by Derek Adams

It's acted and directed with care, and Damon is outstanding, his scenes with Driver being especially sparky.

Los Angeles Times

2/14/2001 by Kenneth Turan

While the charismatic performances of Damon and Affleck make "Good Will Hunting" a difficult entertainment to resist, doing just that is not as hard as the film would like to think.

Detroit News

1/1/2000 by Susan Stark

Between this film and John Grisham's The Rainmaker, Damon surfaces as one swell addition to the front line of screen actors.

Film.com

1/1/2000 by John Hartl

This has not been a great year for language in movies, but people are going to be memorizing and reciting some of these lines for years to come.

Boston Globe

1/1/2000 by Jay Carr

Even rarer than a breath of fresh air is a breath of fresh Hollywood film. Brainy and heartfelt and right on target, Good Will Hunting is such a film.

Salon.com

1/1/2000 by Andrew O'Hehir

Almost any viewer will enjoy Good Will Hunting moment by moment, but many will wake the next morning wondering why, with all that talent on hand, it amounts to so little in the end.

ReelViews

1/1/2000 by James Berardinelli

...a worthwhile sample of entertainment.

Chicago Sun-Times

1/1/2000 by Roger Ebert

The outcome of the movie is fairly predictable; so is the whole story, really. It's the individual moments, not the payoff, that make it so effective.

San Francisco Chronicle

1/1/2000 by Peter Stack

Intimate, heartfelt and wickedly funny, it's a movie whose impact lingers.

Houston Chronicle

1/1/2000 by Jeff Millar

Good Will Hunting represents the firmest step into the mainstream yet for director Gus van Sant.

Film.com

1/1/2000 by Matthew Kohut

Good Will Hunting narrowly avoids many sentimental pitfalls thanks to what doesn't happen...

New York Times

1/1/2000 by Janet Maslin

As Francis Ford Coppola does with The Rainmaker, Van Sant demonstrates how entertainingly a real pro can direct a strong if not especially groundbreaking story.

Entertainment Weekly

12/5/1997

Good Will Hunting is stuffed -- indeed, overstuffed -- with heart, soul, audacity, and blarney. You may not believe a minute of it, but you don't necessarily want to stop watching.

Vice

12/15/2017 by Jason Bailey

It's a movie that captures (in a way that perhaps an older screenwriter could not convey) the limitless possibilities of youth, a movie in which a character can tell another, without cynicism, "You could do anything you want. You are bound by nothing."

Daily Telegraph (UK)

8/15/2014 by Quentin Curtis

A crowd-pleaser, with bags of charm to spare.
No one's rated or reviewed this product yet.