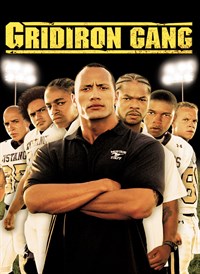 Tomatometer®
Audience
81 %
286,825 user reviews
AV Club

9/23/2006 by Scott Tobias

If The Rock could clone himself to appear in juvenile halls across the country, the recidivism rate would get body-slammed within a few weeks.

Ebert & Roeper

9/18/2006 by Richard Roeper

Well intentioned, but way too corny, way too over the top...

Chicago Reader

9/15/2006

... as Robert Aldrich proved in The Longest Yard, a football movie should be able to hit harder.

Washington Post

9/15/2006 by Ann Hornaday

... a lugubrious tutorial on the importance of being a winner.

Variety

9/15/2006 by John Anderson

Auds will respond, either to the uplifting message and the solid action sequences.

USA Today

9/15/2006 by Claudia Puig

Gridiron entertains and makes a powerful point about the faults inherent in the penal system, particularly for youths with hopes of rehabilitation.

Toronto Star

9/15/2006 by Geoff Pevere

While grittier on the surface, Phil Joanou's allegedly 'true story' inspired Gridiron Gang is as soft and safe in its centre as any of the two dozen or so inspirational pigskin operas that have been released in the past two years.

Seattle Times

9/15/2006 by Ted Fry

Many of the young actors are also quite good in a large ensemble that doesn't become the jumbled mess it could have.

San Francisco Chronicle

9/15/2006 by Peter Hartlaub

... nearly as bleak as it is uplifting.

Philadelphia Inquirer

9/15/2006 by Carrie Rickey

Great message, so-so movie.

Orlando Sentinel

9/15/2006 by Roger Moore

... an extremely inefficient film, wasting time -- the movie's and ours.

Newark Star-Ledger

9/15/2006 by Stephen Whitty

... nearly every time it has the chance to make a play -- it fumbles.

New York Times

9/15/2006 by Jeannette Catsoulis

... the movie's good intentions are consistently undermined by its simplistic notion of redemption, and its inspirational thrust is diluted by an epilogue that suggests the program still has a ways to go in the life-altering department.

New York Post

9/15/2006 by Kyle Smith

Some movies present their whole story in a two-minute trailer, but Gridiron Gang says it all in its poster ...

New York Daily News

9/15/2006 by Elizabeth Weitzman

The Rock commits himself admirably to this trite tale, but by the end, even his enormous shoulders buckle under the weight of so many cliches.

Miami Herald

9/15/2006 by Connie Ogle

... you wouldn't say Gridiron Gang is a touchdown, but it's not a fumble either.

Houston Chronicle

9/15/2006 by Amy Biancolli

This lazy and episodic tacking (pep talk, game, pep talk, game) aggravated me because it sabotages the film's social relevance and honest-to-goodness cinematic uplift.

Globe and Mail

9/15/2006 by Rick Groen

If you like your sports movies, especially your football movies, larded with more clichs than a politician's stump speech, Gridiron Gang begs to be seen.

Detroit News

9/15/2006 by Tom Long

It may not be a great film, but it is a thoroughly admirable movie.