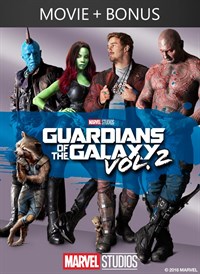 Description
Set to the sonic backdrop of Awesome Mixtape #2, Marvel Studios' Guardians of the Galaxy Vol. 2 continues the team's adventures as they traverse the outer reaches of the cosmos. The Guardians must fight to keep their newfound family together as they unravel the mystery of Peter Quill's true parentage. Old foes become new allies and characters from the classic comics come to their aid as the Marvel Cinematic Universe continues to expand.
Bonus content
In The Director's Chair With James Gunn
Reunion Tour: The Music Of Guardians Of The Galaxy Vol. 2
Living Planets And Talking Trees: The Visual Effects Of Vol. 2
Showtime: The Cast Of Vol. 2
"Guardians Inferno" Music Video
Guardians Of The Galaxy – Mission: Breakout!
Adolescent Groot Extended
Memorial To The War On Xandar
Kraglin And Quill Talk Tunes
Mantis And Drax Feel The Sadness Extended
Scene Breakdown: Rocket & The Ravagers – Combination Layer With Commentary
Scene Breakdown: Rocket & The Ravagers – James Gunn's Storyboards
Scene Breakdown: Rocket & The Ravagers – Official Storyboards
Scene Breakdown: Rocket & The Ravagers – Previsualization
Scene Breakdown: Rocket & The Ravagers – Dailies
Scene Breakdown: Rocket & The Ravagers – VFX Animation
Scene Breakdown: Eclector Escape – Combination Layer With Commentary
Scene Breakdown: Eclector Escape – James Gunn's Storyboards
Scene Breakdown: Eclector Escape – Official Storyboards
Scene Breakdown: Eclector Escape – Previsualization
Scene Breakdown: Eclector Escape – Dailies
Scene Breakdown: Eclector Escape – VFX Animation
Scene Breakdown: Gamora & Nebula – Combination Layer With Commentary
Scene Breakdown: Gamora & Nebula – James Gunn's Storyboards
Scene Breakdown: Gamora & Nebula – Previsualization
Scene Breakdown: Gamora & Nebula – Dailies
Scene Breakdown: Gamora & Nebula – VFX Animation
Additional information
Subtitles
English (CC)
Español
Size
7.41 GB (1080p HD)
4.14 GB (720p HD)
2.51 GB (SD)