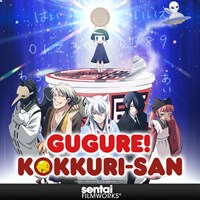 Available on
Xbox One
HoloLens
PC
Mobile device
Xbox 360
Description
Kohina Ichimatsu lives on her own and claims to be an emotionless doll who loves cup noodles. She decided to play the game Kokkuri-san and successfully summoned a fox ghost! The specter isn't what Kohina was expecting… Unlike the legend, Kokkuri-san isn't able to answer any questions! Well, not without using a search engine. With the addition of the ghost dog Inugami who is infatuated with Kohina and the old good-for-nothing raccoon dog Shigaraki, Kohina's peaceful everyday life is over.
Episodes
1. Doll Girl Meets Kokkuri-san!
2. A Refreshing Smile Is the First Step to Becoming a Real Human!
3. Inugami, Stay! Go to Your House!
4. The One on My Mind Is Into Sci-Fi!
5. The Flowers on the Desk are a Message!
6. Kohina, the Cyclops, and Shigaraki!
7. Cat God Tama's Love at First Sight!
8. Hot Springs Search in the Steam!
10. Kureha's Days Being Stood Up!
11. Drop Out of Being an Adult and Cosplay!
Additional information
Duration
12 episodes (5 h 5 min)