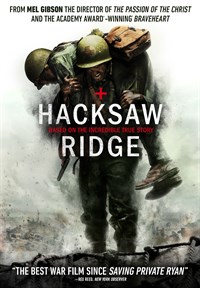 Tomatometer®
Audience
New Yorker

11/7/2016 by Richard Brody

Gibson has made a movie that's nearly pathological in its love of violence-but he nonetheless counterbalances its amoral pleasures with an understanding of the psychological devastation that war wreaks.

Globe and Mail

11/4/2016 by Barry Hertz

War is hell, but Hacksaw Ridge sacrifices that truth in favour of something far more insincere.

Detroit News

11/4/2016 by Adam Graham

The battle scenes in "Hacksaw Ridge" are among the most violent captured on film - and also the most urgent.

Rolling Stone

11/3/2016 by Peter Travers

Hacksaw Ridge is being touted as Gibson's comeback. Is it also an atonement? What's clear is that Gibson has made a film about family, faith, love and forgiveness all put to the test in an arena of violent conflict - a movie you don't want to miss.

New York Post

11/3/2016 by Kyle Smith

If the film's director were anyone but Gibson, a fixture on or even atop Hollywood's enemies list, it would be expecting several Oscar nominations.

Associated Press

11/3/2016 by Jocelyn Noveck

[Doss'] is a story you probably didn't know, and will be glad you did. Gibson does well by it.

Wall Street Journal

11/3/2016 by Joe Morgenstern

Impassioned patriotism and religious conviction constitute the core of Hacksaw Ridge, a stirring -- and surpassingly violent -- dramatization of the life of Desmond T. Doss, the first conscientious objector to receive the Medal of Honor.

Boston Globe

11/3/2016 by Peter Keough

Mel Gibson is a filmmaker with strong beliefs, one of which is the redeeming power of spectacular, voyeuristic pain and violence.

CNN.com

11/3/2016 by Brian Lowry

Hacksaw Ridge has something in common with Loving, another real-life story opening this week... in both instances it's the strength of the underlying narrative, more than the filmmaking, which does most of the heavy lifting.

NPR

11/3/2016 by Chris Klimek

It's good, in a sturdy, muted, unsurprising way.

Chicago Reader

11/3/2016 by J. R. Jones

The young soldier's pacifism was so profound and so truly lived that it neutralizes the director's characteristic bloodlust.

Toronto Sun

11/3/2016 by Liz Braun

Faith and fighting -- two of Mel Gibson's biggest obsessions -- are at the heart of his excellent new movie, Hacksaw Ridge. It's a war movie about a pacifist.

San Diego Reader

11/3/2016 by Matthew Lickona

When your protagonist is a World War II medic during the campaign to take Okinawa, you can make a poetry of corpses (and near-corpses) without swerving from the cause of realism.

Toronto Star

11/3/2016 by Peter Howell

Hacksaw Ridge is old-fashioned moviemaking of the kind Gibson excels at: where men are men, women are women and champions rise to smite villains in gory combat.

ReelViews

11/3/2016 by James Berardinelli

Hacksaw Ridge embraces many of the clichs of the war movie but, instead of laying them out in a rote fashion, the film synthesizes them into a visceral, ultimately inspirational result.

Newsday

11/3/2016 by Rafer Guzman

An unusual pro-peace war film from director Mel Gibson. Solidly entertaining and impressively faithful to the facts.

Washington Post

11/3/2016 by Ann Hornaday

"Hacksaw Ridge" winds up being a rousing piece of entertainment that also happens to be an affecting portrait of spiritual faith and simple human decency.

The New Republic

11/3/2016 by Tim Grierson

There's power in Gibson's simplicity and hardheaded certainty, and there are moments so utterly absorbing that quibbles about the lack of character nuance feel beside the point. And yet, his brand of heroism ultimately feels too one-dimensional.

Minneapolis Star Tribune

11/3/2016 by Colin Covert

This could have been another dime-a-dozen war story about rah-rah patriotism, but Gibson has made something much deeper, artistically and morally.

Entertainment Weekly

11/3/2016 by Leah Greenblatt

Hacksaw never really delves into the moral grays; it's just black and white and red all over.
Showing 1-10 out of 2 reviews
Review title of TAOxBoxerKing

One of the best since saving private ryan

Emotional, tense, and eye opening. This movie puts you directly in the battle, and war is unforgiving. But humanity and bravery can be found through even the darkest times. Mel Gibson brought an important story as well as lesson to the new generation. Andrew and the entire cast put on great performances that create connections. This film is fantastic and heartwarming at times.

1 out of 1 people found this helpful.
Review title of Jonathan26R

Good Flick

A war movie as seen through the perspective of a good heart.

0 out of 0 people found this helpful.