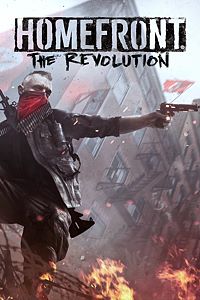 Description
The Revolutionary 'Spirit Pack' includes: - The Red Skull motorbike skin - The Golden skin for your pistol - Early unlocks of the Marksman Rifle, Sniper Scope and Remote Explosives for your Co-Op character And the digital exclusive 'Liberty Pack' features the Liberty Body Armour and KPA Shock Trooper Helmet! The Homefront: The Revolution Expansion Pass includes major single player expansions, and valuable bonuses for your Co-Op career! Homefront: The Revolution is an open-world first person shooter where you must lead the Resistance movement in guerrilla warfare against a superior military force. A living, breathing, open world responds to your actions - you and your Resistance Cell can inspire a rebellion on the streets and turn Occupation into Revolution, as oppressed civilians take up the fight. And the single player campaign is just the start – in Co-Op you and your friends can form your own Resistance Cell and become renowned as Heroes of the Revolution.
Additional information
Developed by
DS Dambuster
Approximate size
21.85 GB
Age rating
For ages 17 and up
Installation
Install on your home Xbox One console plus have access when you're connected to your Microsoft account.
Report this product
Sign in to report this game to Microsoft