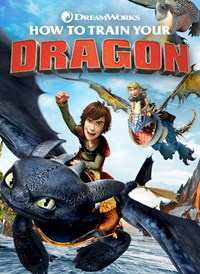 Tomatometer®
Audience
91 %
311,636 user reviews
TIME Magazine

12/8/2014 by Richard Corliss

It's a foolproof scheme for picture making: take the plot elements of favorite movies, paint the concoction with bright colors so it looks like the zazziest customized car, set it running at NASCAR speed, and you have How to Train Your Dragon.

Minneapolis Star Tribune

11/19/2013 by Tom Horgen

What we have here is an exhilarating epic that mixes comedic and touching moments with some of the best action sequences ever created with CGI animation.

Salon.com

11/19/2013 by Stephanie Zacharek

Toothless has the one precious ingredient that's missing from so many of Hollywood's contemporary animated characters: an air of mystery.

New Yorker

11/19/2013 by Bruce Diones

Smartly dispensing with the usual hubbub of pop references that dot many of these films, the movie offers touching, quiet moments and imaginative, high-flying beauty. It's fantastically entertaining.

Film.com

5/6/2011 by Christine Champ

It's a Harry Potter-meets-Avatar adventure that should delight most children and adults.

ReelViews

4/4/2011 by James Berardinelli

Technically proficient and featuring a witty, intelligent, surprisingly insightful script, How to Train Your Dragon comes close to the level of Pixar's recent output while easily exceeding the juvenilia Dreamworks has released in the last nine years.

Time Out

4/1/2010 by Tom Huddleston

The visuals are striking, the script sharp and well paced and it all wraps up with a breathtaking aerial battle sequence.

Globe and Mail

3/26/2010 by Stephen Cole

This dog can hunt. On the ground. Way-way up in the air. Swimming through clouds breathing fire. Imagine Old Yeller on a hundred pep pills.

Houston Chronicle

3/26/2010 by Amy Biancolli

How to Train Your Dragon uses its whiz-bang technology to amplify feelings as well as dimension and scale. The big optical wow is only the half of it.

Detroit News

3/26/2010 by Tom Long

The 3-D throughout How to Train Your Dragon is perhaps the best match with animation yet -- exhilarating when it's supposed to be, yet integrated into the film rather than seemingly pasted on.

Denver Post

3/26/2010 by Lisa Kennedy

One of the pleasures in this wise, emotionally bold PG ride is there's nary a wink, nudge or nod to popular culture.

New York Times

3/26/2010 by A.O. Scott

Tenderness, beauty and exhilaration are the movie's great strengths.

Dallas Morning News

3/26/2010 by Nancy Churnin

The film truly starts to soar when Hiccup takes his first ride on Toothless.

NPR

3/26/2010 by Bob Mondello

What gives [this] story emotional heft has to do with a different kind of dimension: a depth of feeling surrounding the Black Stallion-style bonding of boy and beast.

Washington Post

3/26/2010 by Mike Clark

At a time when Hollywood seems to be releasing everything this side of Dead Sea Scrolls documentaries in 3-D, How to Train Your Dragon is a briskly paced computer-animated entertainment that uses the format to maximum effect, the way Avatar does.

New York Post

3/26/2010 by Kyle Smith

The one interesting aspect of the movie, apart from the design, is that it puts so much effort into projecting a moral, such as it is.

Toronto Star

3/26/2010 by Linda Barnard

With its messages about acceptance, respect and tolerance, How To Train Your Dragon also brings some lessons of its own, including some valuable tools for doing battle with dragons, should the need arise.

Newark Star-Ledger

3/26/2010 by Stephen Whitty

It all adds up to a pleasant adventure, and one that doesn't insult parents or children. Lucky kids will find someone to take them this weekend. Even luckier adults will find someone to take.

USA Today

3/25/2010 by Claudia Puig

It's a thrilling action-adventure saga with exhilarating 3-D animation, a clever comedy with witty dialogue, a coming-of-age tale with surprising depth and a sweetly poignant tale of friendship between man and animal.

New York Daily News

3/25/2010 by Joe Neumaier

Though the dragons are cool in their various forms and the battle scenes are epic and exciting, watching two former foes become friends is what really makes the story fly.
No one's rated or reviewed this product yet.