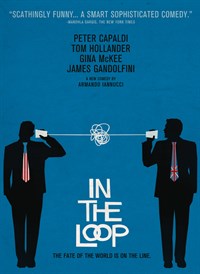 Tomatometer®
Audience
81 %
226,980 user reviews
TheWrap

10/24/2018 by Alonso Duralde

You probably wouldn't want to spend three hours listening to Alan Partridge's drive-time radio broadcast, but this idiotic DJ delivers a solid 90 minutes of cinematic entertainment.

The Atlantic

1/17/2018 by Ed Koch

This alleged satire, which received four-star treatment from other critics, left me with a ho-hum and sorry feeling that I had wasted an evening seeing it.

Arizona Republic

10/21/2009 by Bill Goodykoontz

It's fantastic stuff, so over-the-top, so scabrous, so bitterly brilliant that you have to assume that, on some level, it rings true.

Hollywood Reporter

8/21/2009 by Kirk Honeycutt

Painfully funny satire of British and American bureaucrats in the days leading up to the Iraq War.

Toronto Star

8/21/2009 by Peter Howell

The film, while often very funny, is so relentlessly savage it could destroy whatever shred of respect you may still retain for politicians and that flogged horse called democracy.

Globe and Mail

8/21/2009 by Rick Groen

The brainchild of British director Armando Iannucci, it takes on the politicians at their own dirty game, daring to fictionally embellish the tawdry facts, to out-spin the spin doctors.

Chicago Reader

8/20/2009 by J. R. Jones

This enormously witty satire follows a British diplomatic staff as they fly to Washington to confer with their U.S. counterparts, who are secretly ginning up an invasion of the Middle East.

Miami Herald

8/13/2009 by Rene Rodriguez

This is the funniest movie of the summer.

St. Louis Post-Dispatch

8/6/2009 by Joe Williams

It's often obscenely funny, but it tickles more than it stings.

At the Movies

8/3/2009 by Ben Lyons

You feel like a fly on the wall inside of these meetings in the offices and you see how utterly ridiculous everybody is.

At the Movies

8/3/2009 by Ben Mankiewicz

Every movie that clearly tells us how we marched toward the war, through bullying, intimidation, and making opponents seem crazy is worth seeing.

Minneapolis Star Tribune

7/31/2009 by Colin Covert

In the Loop is one of the best political comedies since the invention of the sprocket hole.

Detroit News

7/31/2009 by Tom Long

Filled with the sort of pent-up vitriolic humor that Brits specialize in, it's one of those films that keep you laughing even as you realize how awfully close to the truth it likely is.

Philadelphia Inquirer

7/30/2009 by Carrie Rickey

A scabrously funny look at the cutthroat game of statecraft.

Seattle Times

7/30/2009 by Moira MacDonald

Political satire is a rare bird at the cinema, so fans of the genre should watch and savor Armando Iannucci's In the Loop -- a rapid-fire, profane celebration of the art (and artlessness) of spin.

Chicago Tribune

7/24/2009 by Michael Phillips

The film plays as if flaming chunks of The Office crash-landed simultaneously onto the sets of Yes, Minister and The West Wing.

NPR.org

7/24/2009 by Bob Mondello

Blistering satire ... scabrous laughs. And it's so easy to imagine that this really is how governments make earth-shaking decisions.
No one's rated or reviewed this product yet.