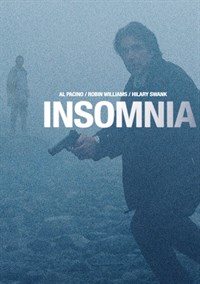 Crime never sleeps. Neither does Will Dormer, a veteran LAPD homicide detective sent north to Alaska to head a murder case.
Once you select Rent you'll have 14 days to start watching the movie and 24 hours to finish it.
Available on
Xbox One
HoloLens
PC
Mobile device
Xbox 360
Description
Crime never sleeps. Neither does Will Dormer (AL PACINO), a veteran LAPD homicide detective sent north to Alaska to head a murder case. There his investigation is disrupted by an ever-shining Midnight Sun that wreaks sleep-depriving havoc on his body clock and brings Dormer's shady, guilt-plagued past into the light of day.
Additional information
Directors
Christopher Nolan
Age rating
Genres
Drama
Thriller/Mystery
Size
6.86 GB (1080p HD)
3.16 GB (720p HD)
2.34 GB (SD)
Size
6.86 GB (1080p HD)
3.16 GB (720p HD)
2.34 GB (SD)
| | |
| --- | --- |
| Windows | Windows 8, Windows 8.1, Windows 10 or later |
| Xbox | Xbox 360, Xbox One, Xbox One S, Xbox One X |
| Mobile | Windows Phone 8, Windows Phone 8.1, Windows 10 or later |

Tomatometer®
Audience
77 %
105,047 user reviews
Minneapolis Star Tribune

8/25/2014 by Colin Covert

---

Like Memento, it invites viewing over and over again.

New York Daily News

8/25/2014 by Jami Bernard

---

Insomnia is not so much about the murder mystery as it is about Will's internal struggle with what's right and what's possibly okay.

L.A. Weekly

8/25/2014 by John Powers

---

In the world of Christopher Nolan, memory is still as treacherous as nitroglycerin.

TIME Magazine

8/5/2013 by Richard Schickel

---

The film represents a triumph of atmosphere over a none-too-mysterious mystery. Which is to say that Nolan makes you feel the end-of-the-earth bleakness of his setting, makes you feel the way it can discombobulate people once they internalize it.

Slate

8/5/2013 by David Edelstein

---

With a run-of-the-mill bad-guy actor playing chief suspect Walter Finch, the movie might have tipped too far Pacino's way. But Robin Williams is a shockingly effective counterweight.

Newsweek

8/5/2013 by David Ansen

---

Scene by scene, screenwriter Hillary Seitz follows director Erik Skjoldbjaerg's original closely, but this remake deepens and improves upon the Norwegian film by giving Dormer a more complex relationship with Eckhart.

Chicago Reader

8/5/2013 by Ted Shen

---

Nolan uses visual pyrotechnics to pump up the tension and add to Pacino's sense of disorientation, but the feeling he evokes isn't as forlorn, creepy, or ambiguous as in the original (though the mountain wilderness is just as forbidding).

Wall Street Journal

8/5/2013 by Joe Morgenstern

---

This one is nowhere near as original -- it's a flawed remake of a fine first feature from Norway -- but Insomnia still stands on its own as a thriller with brains and scenic beauty.

New Yorker

8/5/2013 by Anthony Lane

---

A dark and fidgety picture from Christopher Nolan, who made such a splash with Memento.

AV Club

8/5/2013 by Scott Tobias

---

As Pacino endures day after day without a wink of sleep, Insomnia skillfully turns the screws, delving further into his troubled mind as it's haunted by past and present sins, as well as deceptive visions that seem to bleed out of his conscience.

Associated Press

8/5/2013 by David Germain

---

The highlight is Pacino, who gives his best performance in years.

Time Out

4/5/2012 by Geoff Andrew

---

Despite its linear storyline, the film is very recognisably the work of the sharp, probing intelligence that gave us Following and Memento.

Variety

4/5/2012 by Todd McCarthy

---

While it may not be as stylistically idiosyncratic as Memento Insomnia is a gripping, highly dramatic thriller that more than confirms the distinctive talent of young Brit helmer Christopher Nolan.

Chicago Tribune

7/20/2002 by Mark Caro

---

It's a crafty story told with more style and gray areas than your average thriller.

Observer

5/30/2002 by Rex Reed

---

Insomnia is not my kind of arsenic, but it's so well-made and enigmatic I liked it anyway.

Village Voice

5/28/2002 by Dennis Lim

---

The Hollywood version (which is half an hour longer) transports the action to Alaska, and works up a respectable level of bleary-eyed paranoia.

New York Magazine/Vulture

5/26/2002 by Peter Rainer

---

The best thing about Insomnia is that despite director Christopher Nolan's soft spot for moody-blues obfuscation, he has the good sense to keep his star in practically every shot.

Washington Post

5/24/2002 by Desson Thomson

---

A thriller whose style, structure and rhythms are so integrated with the story, you cannot separate them.

Washington Post

5/24/2002 by Stephen Hunter

---

You see Robin Williams and psycho killer, and you think, hmmmmm. You see the movie and you think, zzzzzzzzz.

USA Today

5/24/2002 by Mike Clark

---

This remake gets all there is to get out of a peculiar premise with promise: Al Pacino loathing Robin Williams.
No one's rated or reviewed this product yet.
Portions of content provided by Tivo Corporation - © 2019 Tivo Corporation