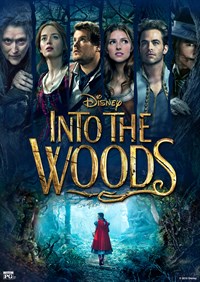 Tomatometer®
Audience
The Atlantic

12/31/2015 by Sophie Gilbert

When it comes to navigating how to be both a family-friendly holiday crowdpleaser and a faithful adaptation of a tricky but profound musical, Into the Woods is mostly golden.

Chicago Reader

1/6/2015 by Ben Sachs

With the exception of Meryl Streep (as the Witch) and James Corden (as the Baker), the cast is bland, and the bombastic orchestrations tend to steamroll the nuances of Sondheim's score.

Time Out

1/5/2015 by Cath Clarke

If you go down to the woods today... you'll find A-listers dressed like 'Game of Thrones' extras belting out showtunes.

Grantland

12/29/2014 by Wesley Morris

The movie is a watchable, tuneful contraption.

Boston Globe

12/26/2014 by Ty Burr

Marshall's film captures enough of the emotions that course through this sneaky fairy tale about childish things like love, sex, grief, insecurity, abandonment, and forbearance.

Philadelphia Inquirer

12/25/2014 by Steven Rea

A jolly mash-up of symbol-laden, signature once-upon-a-time tales about lust, envy, greed, and misguided pursuits of happiness.

New York Times

12/24/2014 by Stephen Holden

"Into the Woods," the splendid Disney screen adaptation of the Stephen Sondheim-James Lapine musical, infuses new vitality into the tired marketing concept of entertainment for "children of all ages."

St. Louis Post-Dispatch

12/24/2014 by Joe Williams

"Into the Woods" could have taken a well-worn path toward stagey sentiments, but those who worried that Hollywood might drain the enchantment from the Enchanted Forest can live happily after.

Fort Worth Star-Telegram/DFW.com

12/24/2014 by Preston Jones

The sly send-up of fantasy tropes and healthy doses of humor help Into the Woods feel very much like the books and films it gently satirizes, even as it stands on its own as a solid entry into the musical-fantasy genre.

Newark Star-Ledger

12/24/2014 by Stephen Whitty

Rob Marshall - who previously shepherded a glossy if slightly diluted version of "Chicago" to the screen - does a decent job transferring the material.

Dallas Morning News

12/24/2014 by Nancy Churnin

As with Chicago, Marshall makes bold choices, but they pay off. His cast may glitter with film stars, but they work as an ensemble and keep their stories emotionally true against a terrifically rich orchestral accompaniment.

Los Angeles Times

12/24/2014 by Betsy Sharkey

What makes "Into the Woods" so entertaining is the cleverness of the tale itself and the way specific characters match the talents of its storytellers.

RogerEbert.com

12/24/2014 by Susan Wloszczyna

If nothing else, "Into the Woods" will provide edifying sustenance for holiday crowds desperate to find a fitting movie to share with their family after the gift-opening and feasting is over.

Slate

12/24/2014 by Dana Stevens

Instead of being a rueful meditation on the inevitable disappointments of adulthood, the last act plays out as a generic dystopian bummer.

Toronto Star

12/24/2014 by Linda Barnard

A mixed bag of clever twists on familiar storybook myths, engaging performances and forgettable songs.

Minneapolis Star Tribune

12/24/2014 by Colin Covert

"Into the Woods" is a paean to the primal magic of storytelling.

Christian Science Monitor

12/24/2014 by Peter Rainer

The Stephen Sondheim-James Lapine 1987 musical Into the Woods has been transferred to the screen by director Rob Marshall with most of its complexities and light-dark tonalities intact.

Observer

12/24/2014 by Rex Reed

I left disenchanted and irritated by so many missed opportunities.

New York Post

12/24/2014 by Lou Lumenick

"Into the Woods'' thankfully retains most of its wit and bite, and showcases two of the year's very best female performances, from Streep and Blunt.

Seattle Times

12/24/2014 by Moira MacDonald

Does it work as a movie? Thanks to a few cast members, the answer is - yes, and for the most part quite nicely.
No one's rated or reviewed this product yet.