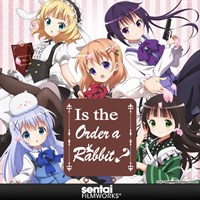 Available on
Xbox One
HoloLens
PC
Mobile device
Xbox 360
Description
Join CoCoa and her high school friends for a hopping good time as they embark on new exploits, living the good life and hanging out at their neighborhood joint - a quaint café called Rabbit House.
Episodes
1. I Knew at First Glance That It Was No Ordinary Fluffball
2. The Girl Who Loved Wheat and the Girl Loved by Azuki Beans
3. Do You Remember the Day You First Got Drunk? You Tried to Light a Campfire in Your Own Home, Didn't You?
4. Your Lucky Items Are Vegetables, Crime, and Punishment
5. Cocoa and Murderous Intent Without Malice
6. A Story About Telling a Story
8. Wet with Pool Water, Wet with Rain, Wet with Tears
10. The Anti-Sister Battle Corps, AKA The Chimame Corps
11. The Girl Dons a Red Coat and Drives a Team of Rabbits Across the Christmas Eve Night Sky
12. For You, I Can Sleep Late
Additional information
Duration
12 episodes (4 h 56 min)