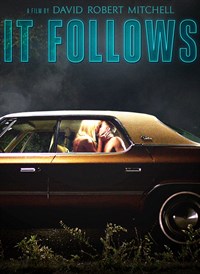 Tomatometer®
Audience
The Public (Buffalo)

10/17/2017 by M. Faust

It's a game I'd be happy to play again.

The Atlantic

1/21/2016 by Lenika Cruz

It Follows represents a compelling evolution in how studios and audiences can (and should) conceive of its monsters.

Toronto Sun

12/30/2015 by Liz Braun

No question that the storytelling here is impressive; the story itself, however, is a bit thin.

BuzzFeed News

11/10/2015 by Alison Willmore

It's a testament to how scary a movie It Follows is that for days after watching it, you walk around thinking up survival plans - should you hide, stay on the move forever, pass the haunting on to someone else?

Associated Press

4/1/2015 by Lindsey Bahr

It's a wildly fun conceit ... Mitchell's atmospheric rendering of It Follows gives the film a fanciful, otherworldly feel.

ReelViews

3/28/2015 by James Berardinelli

Good horror films rely on suspense and tension, and this one has both elements aplenty.

Detroit News

3/27/2015 by Tom Long

"It Follows" is the creepiest movie in years.

Globe and Mail

3/27/2015 by Liam Lacey

Less a conventional scary horror film than a fitful, disturbing dream, It Follows is all about atmosphere, with an unsettling soundscape and dislocating widescreen imagery.

Toronto Star

3/26/2015 by Peter Howell

It Follows manages to bend the rules of fateful juvenile sexuality, and does so in a manner that genuinely tingles the spine and disturbs the mind.

Chicago Sun-Times

3/26/2015 by Bruce Ingram

It's hard not to share Jay's mounting panic as she watches the thing in its various guises walking slowly toward her wherever she may be, invisible to everyone else and entirely intent on destroying her.

Minneapolis Star Tribune

3/26/2015 by Colin Covert

Writer/director David Robert Mitchell forms a provocative filmic world of slowly unfolding secrets, creating a highly disturbing, highly recommended nightmare.

Philadelphia Inquirer

3/26/2015 by Steven Rea

The matters of sex and lost innocence work like a thematic undertow, pulling the characters down into the dark, psychological depths.

Newsday

3/26/2015 by Rafer Guzman

Promises more than it delivers, but engrossing throughout.

Arizona Republic

3/26/2015 by Bill Goodykoontz

It's about many things, but dread infuses them all. You won't be grossed out. You'll be creeped out. And that's a lot more satisfying.

Grantland

3/20/2015 by Wesley Morris

Most of it evokes the attacks on lust that flourished in Alfred Hitchcock's Psycho and The Birds and that were rampant in the high school nightmare movies of the 1970s and 1980s.

ChristyLemire.com

3/19/2015 by Christy Lemire

Mitchell's skills in crafting mood and building tension result in one of the most mesmerizing and suspenseful horror movies to come along in a long time.

Chicago Reader

3/19/2015 by Ben Sachs

Follows is an effective pastiche but a studied one; by the end, even its ambiguities feel overdetermined.

Boston Globe

3/19/2015 by Ty Burr

Where most teen horror movies revel in the peer group splintering and getting slaughtered, this one is more interested in how people gather around a loved one and shield her from harm.

Fort Worth Star-Telegram/DFW.com

3/19/2015 by Cary Darling

Jennifer Kent's The Babadook, from last year, turned parenthood into the scariest story of all, and now comes David Robert Mitchell's It Follows, which merges paranoia and teen sexuality into an exercise in delicious dread.

Dallas Morning News

3/19/2015 by Andrew Welch

An assured piece of filmmaking that works as both a horror movie and a coming-of-age story.
No one's rated or reviewed this product yet.