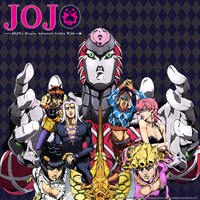 Description
Based on author Hirohiko Araki's groundbreaking Shonen Jump manga series, JoJo's Bizarre Adventure follows the multigenerational tale of the heroic Joestar family and their never-ending battle against evil.
Episodes
1. The Mystery of Emperor Crimson
3. Crush and Talking Mouth
6. A Little Story From the Past ~My Name Is Doppio~
7. Emperor Crimson vs. Metallic
8. Under a Sky That Could Come Falling at Any Moment
9. Get to the Collessium in Rome!
10. Green Tea and Sanctuary Part 1
11. Green Tea and Sanctuary Part 2
12. Green Tea and Sanctuary Part 3
14. The Requiem Quietly Plays, Part 1
15. The Requiem Quietly Plays, Part 2
Additional information
Age rating
Genres
Action/Adventure
Animation
Duration
19 episodes (7 h 32 min)