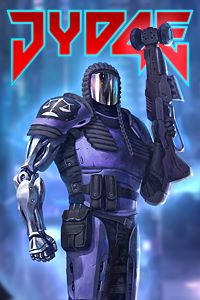 Build your JYDGE. Enter Edenbyrg. Get out alive. JYDGE is a lawful but awful roguehate top-down shooter where you get to build your own cybernetic JYDGE and eradicate crime in the never-sleeping megacity of Edenbyrg.
Description
Build your JYDGE. Enter Edenbyrg. Get out alive. JYDGE is a lawful but awful roguehate top-down shooter where you get to build your own cybernetic JYDGE and eradicate crime in the never-sleeping megacity of Edenbyrg. Create your own play-style by augmenting your JYDGE, modifying your Gavel rifle, and choosing fearless companions to suit the tasks at hand. - Choose your cybernetics, items, weapon mods, and companions from over a BILLION different configurations. - Deal ruthless Jystice with lead, rockets, lasers, electricity, and other deadly tools of the law. - Perform heroic feats to get extra medals and unlock new equipment. - Team up with your CO-JYDGE for local co-op.
Screenshots
Sign in with your Microsoft account to view. May contain mature content.
You may not access this content
Additional information
Approximate size
513.4 MB
Installation
Install on your home Xbox One console plus have access when you're connected to your Microsoft account.
Report this product
Report this game to Microsoft
Thanks for reporting your concern. Our team will review it and, if necessary, take action.
Sign in to report this game to Microsoft
Ratings and reviews
Thanks. Your review will post soon.
There was an error posting your review. Please try again later.
---
All user reviews
Filter by:
Sort by:
10/29/2017
TheTwistedSaber
Xbox
AWESOME But NEEDS More Upgrade Slots!!
EVERYTHING ABOUT THIS GAME IS AWESOME from the music, art style, gameplay, upgrades and everything else!!! But my only 2 complaints is 1rst- I don't how some medals feel IMPOSSIBLE to get specifically the don't get spotted and finish under set time especially on the harder difficulties!!! 2nd-There IS NOT ENOUGH UPGRADE SLOTS!!!! There is SO MANY upgrades but you only able to pick 4 for armor and 3 for you gun so besides for that everything else is great so Please ADD MORE UPGRADE SLOTS!!!!!
12 out of 12 people found this helpful.
IF YOU LOVE TOP DOWN SHOOTERS A MUST OWN
it's really good and addicting. i love these games but if you are not much into this genre you might not it. it has a TON and i mean ALOT!! of upgrades! BUT they cost alot of tokens which can be obtained several ways kill everything is one way. alot of missions. awesome music CYBER!! its totally THE FOLLOW UP TO NEON CHROME! if you love that game then its a must have. im 9 hours in and still trying out different TOYS i haven't even scratched. the surface...I'll BE BACK!!
25 out of 29 people found this helpful.
As awesome and amazing as Neon Chrome !
Im soooo happy this is a follow up to Neon Chrome. I absolutely LOVED that game. So many customizations for, Armor, Weapons, Secondarys like grenades etc. Killer levels with a normal mode and Hardcore for more tokens to open more rooms and customization items. I absolutely enjoy the Music too. I loe it 10Tons !
13 out of 16 people found this helpful.
10/15/2017
SoonerStigma
Xbox
Every Gamer needs this in their Collection.
Seriously one of the better games I have played this year, it has excellent atmosphere and great gameplay. All these 5 stars and you still NO SMASH?! that buy button.
6 out of 8 people found this helpful.
10/17/2017
Gunblade44
Xbox
Weighs In, & Measures up, but still wanting.
Perfectly fun, albeit repetitive, arcade shooter. After finding a secret collectible and restarting my progress while keeping my stats and levels, I feel I can appropriately review this game. The controls are solid. The music perfectly functional. The multiplayer aspect is local only. While slightly disappointing, is still fantastic. Online multiplayer is really the only thing this game is lacking. The level variety is small, but it's a $20 game. However, for the top down arcade shooter type; This is definitely something different. There's really something for everyone. The game play and action gets quite repetitive, again it's a $20 game. Just because it's repetitive, however doesn't mean it's not a blast. Maybe even more fun if you have a second local player. In the end, the only thing that it's really left wanting is SMARTER HOSTAGES! (DROPPING A STAR FOR THIS), more survival missions and an online multiplayer feature. Save that... JYDGE... Measures in full. 4⭐ / 5⭐
19 out of 33 people found this helpful.
2/20/2018
Doombot98275
Xbox
Dredd would be pleased
This is the game any fan of Judge Dredd has been craving! Fast, fun, with lots of upgrades! I have every 10tons game. They're all good, but this is easily their magnum opus. I only wish here were more cyberware slots.
3 out of 4 people found this helpful.
10/6/2017
MikalBlitzkrieg
Xbox
Been there, done that, get Cuphead instead.
Another die over an over again top down shooter with NO sense of level progression whatsoever. Instead of upgrading your heath and giving you a sense of acomplisment, it does what every other indie top down shooter does and give you armor slots that increase heath instead of, you know, heath increasing through LEVELING and wepons slots instead leveling up naturally and learning and earning your upgrades. Another case or strong RNG and luck with little skill needed. Save your money for Cuphead because unlike this game, in Cuphead you actually learn from your defeat and get a real sense or gaming accomplishment and you never fell like it is the game fault for your death.
19 out of 71 people found this helpful.
Thank you for your feedback.
Sorry, something went wrong. Please try again.