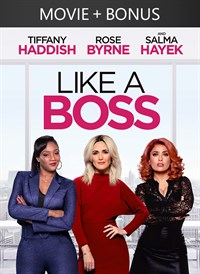 Description
Best friends, Mia and Mel (Tiffany Haddish and Rose Byrne) are living their best lives, running their own cosmetics company until a villainous beauty mogul (Salma Hayek) conspires to steal it from under them. When her devious plan drives the besties apart, Mia and Mel learn that sticking together is the only way to turn the tables and take their company back. The beauty business is about to get ugly.
Bonus content
Deleted Scenes: You Need Me To Help You
Deleted Scenes: Now Hit Me
With Coworkers Like These, Who Needs Friends?
"Get Some" With Ron And Greg
Additional information
Writers
Sam Pitman
Adam Cole-Kelly
Danielle Sanchez-Witzel
Size
4.67 GB (1080p HD)
2.93 GB (720p HD)
2.34 GB (SD)