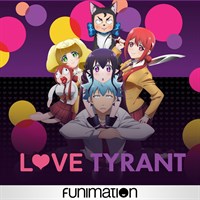 Available on
Xbox One
HoloLens
PC
Mobile device
Xbox 360
Description
When keeper of the Kiss Note Guri accidentally writes Aino Seiji's name down, her life rests on him finding someone to kiss!
Episodes
1. I'm Getting In on This, Too x Whoa! Forbidden Love?!
2. Sniff Sniff x The Only One Who May Hurt Seiji-kun... Is Me
3. I Can Handle This Myself! x Wassup
4. I'm Not Going to Lose! x Are You Like Me?
5. What Is Love? x Kami Is Prostrating Himself Now lolol
6. Go to the Beach With Me? x It's Not a Matter of Knowing or Not
7. It's a Festival x How Did It Come to This?!
8. Farewell x We're Rivals, Obviously!!
9. Absolutely... Nothing... x There's Just Something Wrong With Me…
10. I'm Here to Stay the Night x I'm... Growing Up, Too
11. Where Did She Go? x I Apologize for Troubling You Until Now
12. Right, Let's All Die! x I Finally Understand
Additional information
Age rating
Genres
Animation
Anime
Comedy
Duration
12 episodes (4 h 48 min)