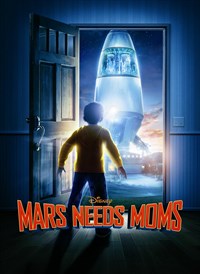 Nine-year-old Milo finds out just how much he needs his mom when she's abducted by Martians. His quest is to save his mom and on his journey he finds help from an Earthman named Gribble and a rebel Martian girl called Ki.
Once you select Rent you'll have 14 days to start watching the movie and 48 hours to finish it.
Available on
Xbox One
HoloLens
PC
Mobile device
Xbox 360
Description
From Disney and Academy Award-winner Robert Zemeckis (Best Director,Forrest Gump, 1994) comes the craziest adventure this side of the galaxy - Mars Needs Moms. Take out the trash, eat your broccoli - who needs moms anyway? Nine-year-old Milo (Seth Green) finds out how much he needs his mom (Joan Cusack) when she's nabbed by Martians who plan to steal her mom-ness for their own young. In a race against time and oxygen, his quest to save her knows no bounds. And with some unexpected help, Milo just might find his way back to her - in more ways than one. It's a thrilling journey that's pure, out-of-this-world crazy fun.
Additional information
Age rating
Genres
Action/Adventure
Animation
Family
Sci-Fi/Fantasy
Genres
Action/Adventure
Animation
Family
Sci-Fi/Fantasy
Size
5.22 GB (1080p HD)
2.47 GB (720p HD)
1.85 GB (SD)
Size
5.22 GB (1080p HD)
2.47 GB (720p HD)
1.85 GB (SD)
| | |
| --- | --- |
| Windows | Windows 8, Windows 8.1, Windows 10 or later |
| Xbox | Xbox 360, Xbox One, Xbox One S, Xbox One X |
| Mobile | Windows Phone 8, Windows Phone 8.1, Windows 10 or later |

Tomatometer®
Audience
indieWire

8/12/2011 by Leonard Maltin

---

As with a good live-action movie, it all begins with the script, and this one is solid-well thought-out, briskly paced, funny and sweet. In the end, it's the finished film that matters, not the process...

Time Out

4/6/2011 by Tom Huddleston

---

The 'Polar Express'-style CG-meets-live-action visuals are creepy and flat, the characters are largely nonexistent and the story takes so many short cuts that it becomes meaningless...

Newsday

3/25/2011 by Rafer Guzman

---

The film looks neither fully real nor fully imagined, which could be forgiven if Mars Needs Moms had something more to offer besides its nifty technology.

Film.com

3/21/2011 by Eric D. Snider

---

They took a small story, made it complicated and burdensome, filmed some actors performing it, turned those actors into affectless, mechanical cartoons, converted it to 3-D, and dropped it in theaters. Wheeee!

Newark Star-Ledger

3/12/2011 by Stephen Whitty

---

So, okay, men are completely irresponsible slobs, which is why women need to be unceasing nags. Check. Great message for the kids.

Detroit News

3/11/2011 by Tom Long

---

This is just a big rollercoaster of a movie, filled with dazzling effects and funny creatures and the requisite five-hankie "I love you, Mom" ending. But then, there are some weird gender political battles at play here.

Globe and Mail

3/11/2011 by Stephen Cole

---

Even though Mars Needs Moms isn't female-friendly, mothers looking for quality time with 6- to 12-year-old boys could do worse than book group passage there soon.

New York Times

3/11/2011 by Mike Hale

---

It seems that it's time to admit that dressing actors in LED-studded catsuits, asking them to give performances on sterile white sets and handing the results to a team of computer animators is not a way to make a good movie.

St. Louis Post-Dispatch

3/11/2011 by Jody Mitori

---

If Breathed's style could have been applied to the animation, this offbeat story would have a better chance at success. Instead, we're left with a kids' movie that leaves audiences cold.

New York Post

3/11/2011 by Lou Lumenick

---

Aside from a relatively brief appearance by Joan Cusack's avatar as the kidnapped mother, there are no involving characters or situations.

Washington Post

3/11/2011 by Sean O'Connell

---

While Wells's ice-blue color scheme borrows from both "Tron" films and a litany of "Star Trek" episodes, a majestic musical score by the great composer John Powell somehow makes everything old feel fresh and wondrous again.

San Francisco Chronicle

3/10/2011 by Mick LaSalle

---

Talk about setting the bar too low, especially in a movie that kids will be watching.

USA Today

3/10/2011 by Claudia Puig

---

The movie is hampered by uninteresting characters, a predictable story and 3-D technology, which darkens even the brightest colors and detracts from the vibrancy of the tale.

Dallas Morning News

3/10/2011 by Nancy Churnin

---

Families may be pleasantly surprised to find this an often thrilling and imaginative ride for younger kids with a big helping of heart for parents.

Wall Street Journal

3/10/2011 by Joe Morgenstern

---

Mars may need moms, but Earth needs good movies, and this isn't one of them.

Los Angeles Times

3/10/2011 by Betsy Sharkey

---

Instead of breathing life into cartoonist Berkeley Breathed's cheeky kids morality tale, the movie - with all its 3-D motion capture animation flash - flatlines.

Toronto Star

3/10/2011 by Peter Howell

---

Mars Needs Moms isn't much of a movie, but it's a great teaching tool for how not to make an animated film.

Minneapolis Star Tribune

3/10/2011 by Tom Horgen

---

"Mars Needs Moms" doesn't crash-land into "Yogi Bear" territory, but it definitely doesn't soar to "Toy Story 3" heights of animated grandeur.

Boston Globe

3/10/2011 by Tom Russo

---

"Mars'' needs Mom more than the filmmakers seem to realize.

AV Club

3/10/2011 by Keith Phipps

---

An entertaining, accomplished movie that shows off what its signature technology can do...
No one's rated or reviewed this product yet.
Portions of content provided by Tivo Corporation - © 2019 Tivo Corporation