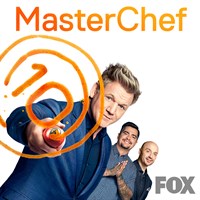 Available on
Xbox One
HoloLens
PC
Mobile device
Xbox 360
Description
Gordon Ramsay stars in MasterChef, the new series that takes amateur chefs - many of whom simply cook as a hobby - and attempts to turn one of them into a culinary master. Contestants on MasterChef will be put through the paces with various challenges as they compete head-to-head to create delicious dishes.
Episodes
1. The Epic 10th Season Auditions - Pt. 1
2. Auditions - Pt. 2 / The Battle Round
4. 10th Season Pool Party!
5. The Blind Chicken Show
7. Gordon Takes On a Tarte
9. Tag Team Tears & Tantrums
15. Small Dessert, Big Problems
16. Nascar - Finish Line Feed
17. Box in a Box in a Box
22. London Calling - Pt. 1
23. London Calling - Pt. 2
101. MasterChef Season 10 Sneak Peek
Additional information
Duration
26 episodes (17 h 29 min)