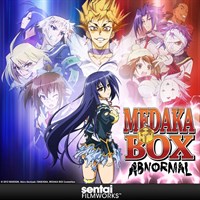 Available on
Xbox One
HoloLens
PC
Mobile device
Xbox 360
Description
What began as an assistance program spirals out of control and exposes Medaka Kurokami as something more than human. But that's only the first of a series of revelations that illuminate a dark plan. Get ready for action, violence and gorgeous girls—the way only Studio Gainax can make them—as the hits, grins, jiggles, and girls enter the berserker stage!
Episodes
1. Normal, Special, and Abnormal
2. Sister, Sister, Sister!
4. The Monster I've Sought
6. Please Become My Something
8. I Don't Want to See You Cry
10. How to Make Everyone Happy
11. That's All She Wrote!
Additional information
Duration
12 episodes (5 h 2 min)