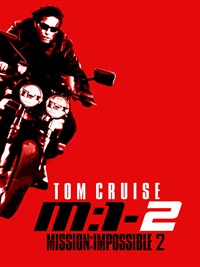 Tomatometer®
Audience
43 %
451,531 user reviews
Newsweek

3/6/2018 by David Ansen

"M:I-2," as the new Mission: Impossible is tagged, is a slick, expensive, bullet-ridden thriller that is oddly dull -- the last thing you'd expect.

Variety

3/27/2009 by Dennis Harvey

Woo lays on his own particular high-octane stylishness so thick the results edge perilously toward self-parody.

Observer

4/27/2007 by Andrew Sarris

For all my profound reservations about the whole project, I wound up liking it more, or, at least disliking it less, than I had anticipated. Thandie Newton is the biggest reason.

Time Out

2/9/2006 by Derek Adams

Woo's hysterically hyper visuals and boytoy gimmickry can't camouflage the emptiness of the enterprise.

New York Magazine/Vulture

1/16/2003 by Peter Rainer

Despite Cruise's attempts here to be Byronic, there's something strenuous about his soulfulness; he turns everything, even repose, into calisthenics.

San Francisco Chronicle

6/18/2002 by Mick LaSalle

It's fun. It's laughable. It has moments of excitement, moments of sheer idiocy and moments of sheer idiotic excitement.

Globe and Mail

3/22/2002 by Rick Groen

A strained sequel to a feature rip-off of an old television show with a stealable theme song. On screen and off, no one's getting marks for originality here.

Associated Press

1/1/2000 by Bob Thomas

Cruise makes a convincing hero.

Houston Chronicle

1/1/2000 by Louis B. Parks

Woo beats Brian De Palma's direction of M:I all to heck.

San Jose Mercury News

1/1/2000 by Glenn Lovell

A quantum improvement on Mission: Impossible 1.

Film.com

1/1/2000 by Sean P. Means

Isn't bad as summer action fare goes.

Dallas Morning News

1/1/2000 by Philip Wuntch

A dizzyingly enjoyable retro rollercoaster.

Washington Post

1/1/2000 by Stephen Hunter

Mission: Impossible-2 is such a feast of outlandish pleasures it'll send you home steam-cleaned and shrink-wrapped.

Detroit News

1/1/2000 by Susan Stark

Bottom line, M:I-2 seems destined to create the kind of excitement and box-office punch that insiders have been predicting since the turn of the century.

Detroit Free Press

1/1/2000 by Terry Lawson

M:I-2 is just another summer stock item, like sunscreen and barbecue coals.

Orlando Sentinel

1/1/2000 by Jay Boyar

The script, by Robert Towne isn't just coherent, it's also occasionally funny in self-referential ways.

Los Angeles Times

1/1/2000 by Kenneth Turan

Once Woo unleashes his bad self and ignites the proceedings here, once the glass shatters, the flames erupt, the gunshots ricochet and the doves fly, all is well with M:I-2.

Entertainment Weekly

1/1/2000 by Owen Gleiberman

It's eye candy that detonates.
No one's rated or reviewed this product yet.