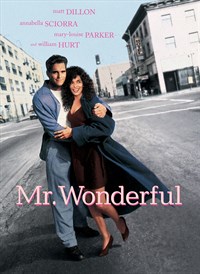 Matt Dillon, Anabella Sciorra, Mary-Louise Parker, and William Hurt star in this bittersweet romantic comedy that takes a poignant second look at first love.
Once you select Rent you'll have 14 days to start watching the movie and 24 hours to finish it.
Available on
Xbox One
HoloLens
PC
Mobile device
Xbox 360
Description
Academy Award and Golden Globe-nominee Matt Dillon ("Crash," "There's Something About Mary"), Emmy-nominee Anabella Sciorra (TV's "The Sopranos," "The Hand that Rocks the Cradle"), Emmy and Golden Globe-winner Mary-Louise Parker (TV's "Weeds," "Red Dragon") and Academy Award-winner and Golden Globe-nominee William Hurt ("Syriana," "The Village") star in this bittersweet romantic comedy that takes a poignant second look at first love, as a divorced young man searches for the perfect mate for his ex-wife, only to find himself reconsidering what (and who) he really wants out of life. Variety says "what sets this pic apart is the richness of its characters and the top-to-bottom strength of its cast," and People Magazine agrees, calling this a movie "with unforced charm and sweetness fortified by fine performances." Directed by Academy Award-winner Anthony Minghella ("The English Patient").
Additional information
Directors
Anthony Minghella
Age rating
Size
5.76 GB (1080p HD)
2.65 GB (720p HD)
1.96 GB (SD)
Size
5.76 GB (1080p HD)
2.65 GB (720p HD)
1.96 GB (SD)
| | |
| --- | --- |
| Windows | Windows 8, Windows 8.1, Windows 10 or later |
| Xbox | Xbox 360, Xbox One, Xbox One S, Xbox One X |
| Mobile | Windows Phone 8, Windows Phone 8.1, Windows 10 or later |

Tomatometer®
Audience
Variety

3/18/2008 by Brian Lowry

---

Short on laughs but tinged with a pleasant European flavor.

Time Out

6/24/2006 by Derek Adams

---

Writer/director Minghella's second feature brings ambivalence and a touch of realpolitik to the stuff of candyfloss romance.

Rolling Stone

5/12/2001 by Peter Travers

---

Without that yeoman cast effort and Dillon's easy charm, Mr. Wonderful could easily be mistaken for Mr. Potatohead.

Chicago Sun-Times

1/1/2000 by Roger Ebert

---

One of those films where it's clear to the audience within five minutes what must obviously happen, and clear to the characters only at the end of the story.

ReelViews

1/1/2000 by James Berardinelli

---

Mr. Wonderful doesn't aspire to be anything more than it is, and such a simple, uncomplicated presentation, coupled with likable characters, makes this film a fine example of light, romantic entertainment.

Hartford Courant

4/17/2018 by Owen McNally

---

Things are never as wonderful as you'd hope them to be in "Mr. Wonderful." But despite the defective rings it wears around its blue collar, it does have its bright moments.

Independent on Sunday

12/7/2017 by Quentin Curtis

---

Even the least demanding viewer will want more.

Empire Magazine

3/18/2008 by Angie Errigo

---

An enjoyable romantic comedy, one that won't have the dragged along boyfriend running for the hills. It doesn't loose itself in fantasy land, remaining grounded and realistic.

TV Guide

3/18/2008

---

Rather bland considering its attractive cast.

Film4

3/18/2008

---

A thoughtful romantic comedy with a snappy hook.

Moviehole

5/12/2005 by Clint Morris

---

A Charming movie with a welcome turn by Dillon

eFilmCritic.com

7/31/2002 by Scott Weinberg

---

Lightweight romantic piffle.

rec.arts.movies.reviews

1/1/2000 by Scott Renshaw

---

It's gentle and affirming and it caught me on a good day. Kindly check in your cynicism at the door.

Deseret News (Salt Lake City)

1/1/2000 by Chris Hicks

---

Mr. Wonderful starts off with great promise, then gradually runs out of steam, wasting a very talented but woefully underused cast.
No one's rated or reviewed this product yet.
Portions of content provided by Tivo Corporation - © 2019 Tivo Corporation