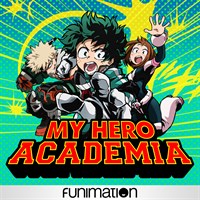 Description
The villain world teeters on the brink of war as Deku struggles to keep pace with his upperclassman—Mirio.
Episodes
3. Win Those Kids' Hearts
4. Relief for License Trainees
6. Prepping for the School Festival Is the Most Fun Part
8. Deku vs. Gentle Criminal
9. School Festival Start!!
10. Let It Flow! School Festival!
Additional information
Age rating
Genres
Action/Adventure
Anime
Duration
12 episodes (4 h 47 min)