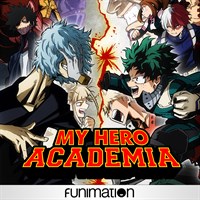 Available on
Xbox One
HoloLens
PC
Mobile device
Xbox 360
Description
Despite being born powerless into a super-powered world, Izuku refuses to give up on his dream of becoming a hero. He enrolls himself in a prestigious hero academy with a deadly entrance exam. To make the grade, he'll have to put in some serious study time with the mightiest hero of all.
Episodes
2. Create Those Ultimate Moves
8. Special Episode: Save the World with Love!
10. A Talk about Your Quirk
11. Deku vs. Kacchan, Part 2
12. A Season for Encounters
Additional information
Age rating
Genres
Action/Adventure
Anime
Duration
13 episodes (5 h 11 min)