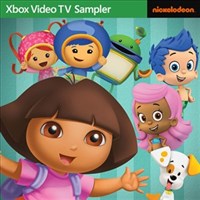 Available on
Xbox One
HoloLens
PC
Mobile device
Xbox 360
Description
Get ready for a grab bag of some of your favorite Nick Jr. adventures, featuring Team Umizoomi, Dora the Explorer, the Bubble Guppies, the Fresh Beat Band, Go, Diego Go!, and the gang from Yo Gabba Gabba! Your Nick Jr. friends are waiting! Ready? Let's play!
Episodes
1. (Team Umizoomi S2 Ep 203) Purple Monkey Mission
2. (Bubble Guppies S1 Ep 105) We Totally Rock!
3. (Dora the Explorer S3 Ep 322) Best Friends
4. (Yo Gabba Gabba S1 Ep 101) Eat
5. (The Fresh Beat Band S1 Ep 103) Stomp the House
6. (Go, Diego, Go S1 Ep 107) Pepito's Penguin School
Additional information
Duration
6 episodes (2 h 21 min)