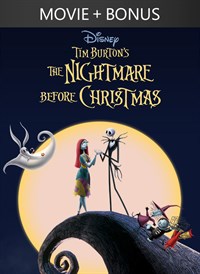 Original price was $17.99, current price $9.99
Original price was $17.99, current price $9.99
Description
Bored with the same old scare-and-scream routine, Pumpkin King Jack Skellington longs to spread the joy of Christmas. But his merry mission puts Santa in jeopardy and creates a nightmare for good little boys and girls everywhere!
Bonus content
Play Movie in Sing-Along Mode
Play Movie with Audio Commentary
Deleted Storyboard: Behemoth Singing
Deleted Storyboard: Oogie Boogie with Dancing Bugs
Deleted Storyboard: Alternate Identity of Oogie Boogie
Deleted Animated Sequence: "Vampire Hockey Players"
Deleted Animated Sequence: "Lock, Shock and Barrel"
Deleted Animated Sequence: "Oogie Boogie Shadow Dance"
Tim Burton's Early Film: Frankenweenie (Uncut Version)
"What's This? Jack's Haunted Mansion Holiday Tour"
Tim Burton's Original Poem Narrated by Christopher Lee
Storyboard-To-Film Comparison
Additional information
Studio
Touchstone Pictures
Genres
Animation
Comedy
Family
Horror
Sci-Fi/Fantasy
Size
4.42 GB (1080p HD)
2.33 GB (720p HD)
1.31 GB (SD)