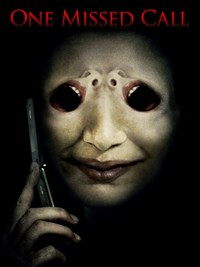 In this remake of the Japanese horror film "Chakushin Ari", several people start receiving voice-mails from their future selves, messages of the date, time and some of the details.
Once you select Rent you'll have 14 days to start watching the movie and 24 hours to finish it.
Available on
Xbox One
HoloLens
PC
Mobile device
Xbox 360
Description
What if your life depended on answering your cell phone? What if you knew when, where and how you are to die? What if you had chosen to answer that One Missed Call? It begins innocently enough, a call unanswered on a cell phone. But the voice mail is from you--three days in the future--and the sound you hear is your own as you are being murdered. It starts with one call, but that's not the end in this bone-chilling tale of terror. Should you pick up the cell phone? Can you do anything to change your fate? Do you want to know the time, place and way you are to die?
Additional information
Age rating
Genres
Horror
Thriller/Mystery
Size
4.85 GB (1080p HD)
3.05 GB (720p HD)
2.44 GB (SD)
Size
4.85 GB (1080p HD)
3.05 GB (720p HD)
2.44 GB (SD)
| | |
| --- | --- |
| Windows | Windows 8, Windows 8.1, Windows 10 or later |
| Xbox | Xbox 360, Xbox One, Xbox One S, Xbox One X |
| Mobile | Windows Phone 8, Windows Phone 8.1, Windows 10 or later |
Portions of content provided by Tivo Corporation - © 2020 Tivo Corporation