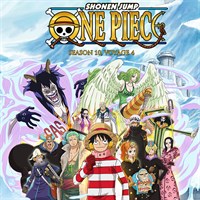 Description
Monkey D. Luffy refuses to let anyone or anything stand in the way of his quest to become king of all pirates. With a course charted for the treacherous waters of the Grand Line, this is one captain who'll never drop anchor until he's claimed the greatest treasure on Earth—the Legendary One Piece!
Episodes
1. Brownbeard in Grief! Luffy Lands a Furious Blow!
2. A Surprising Outcome! White Chase vs. Vergo!
3. Caesar's Defeat! The Powerful Grizzly Magnum!
4. Raid! An Assassin from Dressrosa!
5. Running Wild! Invincible General Franky!
6. A Critical Situation! Punk Hazard Explodes!
7. Capture Caesar! General Cannon Blasts!
8. A Touching Reunion! Momonosuke and Kin'emon!
9. It's Time to Say Goodbye! Leaving Punk Hazard!
10. The G-5 Wiped Out! Doflamingo's Sudden Attack!
11. Intense! Aokiji vs. Doflamingo!
12. Caesar Goes Missing! The Pirate Alliance Makes a Sortie!
13. Luffy Dies at Sea?! The Pirate Alliance Comes Apart!
14. A Major Turnaround! Luffy's Angry Iron Fist Strikes!
Additional information
Duration
14 episodes (5 h 34 min)