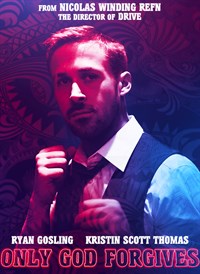 Tomatometer®
Audience
Grantland

8/1/2013 by Wesley Morris

Directors are always digging around in their psyches for material - David Lynch, Alejandro Jodorowsky, Lars von Trier ... Refn's anxiety seems out to top theirs. But there's no joy or folly or transcendence. It's a one-dimensional video game of death.

Minneapolis Star Tribune

8/1/2013 by Colin Covert

Ryan Gosling and his "Drive" director, Nicolas Winding Refn, sail into the heart of darkness and emerge with a trinket of crackpot porno kitsch.

Time Out

7/30/2013 by Dave Calhoun

Style over substance doesn't really tell the half of it: you can bathe a corpse in groovy light and dress it in an expensive suit, but in the end that rotting smell just won't go away.

Chicago Sun-Times

7/23/2013 by Richard Roeper

This is one of the most shocking and one of the best movies of the year.

San Francisco Chronicle

7/22/2013 by Mick LaSalle

Refn's nerve is admirable, even if his film often borders on unwatchable.

Washington Post

7/19/2013 by Ann Hornaday

The most objectionable thing about Only God Forgives isn't that it's shocking or immoral, but that it's so finally, fatally dull.

TheWrap

7/19/2013 by Alonso Duralde

The more arts-minded drag queens will be doing [Kristin Scott Thomas] this Halloween.

Miami Herald

7/19/2013 by Rene Rodriguez

Mocking the improbable characters and bizarre juxtapositions is too literal and superficial a reading of this dreamy, entrancing movie.

New York Magazine/Vulture

7/19/2013 by David Edelstein

I thought it was just about the worst ... thing I've ever seen. In fact, I was depressed it wasn't laughed off the screen.

Rolling Stone

7/19/2013 by Peter Travers

Where Drive shrewdly mystifies, Only God Forgives stupefies. You can see its gears grinding. But I'll always hang on for a rare talent like Refn. Even when he stumbles, he leaves you eager to see what he's up to next.

RogerEbert.com

7/19/2013 by Ali Arikan

Refn and Smith might have been going for authentic urban, disquiet, but the result is middle of the road trash-can of manufactured, polished, execration.

Newark Star-Ledger

7/19/2013 by Stephen Whitty

I never had a doubt that director Nicolas Winding Refn was in absolute control.

Detroit News

7/18/2013 by Adam Graham

Refn seems to have some issues he needs to work out, and "Only God Forgives" does as well. If it doesn't quite get all the way there, at least it's an interesting mess.

Toronto Star

7/18/2013 by Peter Howell

It's possibly the least glamorous and also least interesting role Gosling has ever had. It's not likely to expand his fan base much, or Refn's for that matter.

New York Post

7/18/2013 by Sara Stewart

What makes it high art? The fact that it happens really slowly, I think, or that it's interspersed with patience-testing camera pans of wallpaper.

The New Republic

7/18/2013 by David Thomson

This is a ludicrous, showy film, and we are left to reconcile those two antagonistic qualities, or get out.

USA Today

7/18/2013 by Claudia Puig

God may forgive you for seeing this needlessly brutal film. But you won't forgive yourself.

Wall Street Journal

7/18/2013 by Joe Morgenstern

Nicolas Winding Refn's excruciatingly-though definitively-pretentious exercise in ritual violence gives chiaroscuro a bad name.

New York Times

7/18/2013 by Stephen Holden

What is on Mr. Refn's mind? Here is what he says in a director's note: "The original concept for the film was to make a movie about a man who wants to fight God." All right. Whatever.

Boston Globe

7/18/2013 by Ty Burr

"Only God Forgives" is the kind of remarkable disaster only a very talented director can make after he finds success and is then allowed to do whatever he wants.
No one's rated or reviewed this product yet.