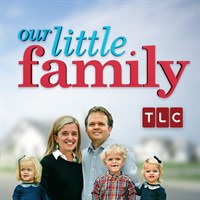 Available on
Xbox One
HoloLens
PC
Mobile device
Xbox 360
Description
Dan and Michelle Hamill, along with their son and twin daughters, all have achondroplasia, a form of dwarfism. Growing up in an average-sized world has its complications, but the family faces any challenge thrown their way together with a positive attitude.
Episodes
1. A Mother's Day Surprise!
4. Happy Father's Day, Daddy!
5. What's One More Hamill?
6. Independence Week for the Hamills
7. Hamill Hustle and Bustle
Additional information
Age rating
Genres
Family/Children
Reality TV
Duration
9 episodes (6 h 21 min)