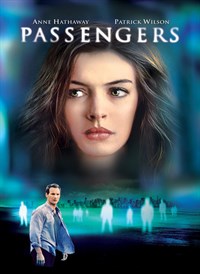 Tomatometer®
Audience
At the Movies

11/10/2008 by Ben Mankiewicz

It is dark, depressing and seems to be built entirely around a twist ending that feels less like a surprise and more like relief.

At the Movies

11/10/2008 by Ben Lyons

Even though Anne Hathaway is good, it's no reason to get really emotionally invested in her quest

New York Daily News

10/30/2008 by Joe Neumaier

Did Hathaway know when she signed to this that it would be released just in time to embarrass her during her accolades for Rachel Getting Married?

New York Times

10/30/2008 by Stephen Holden

Passengers is a supernatural thriller so mechanically inept and lacking in suspense that it doesn't even pass muster as lowbrow Halloween-ready entertainment.

Chicago Reader

10/30/2008 by Joshua Katzman

The surprise ending isn't as shocking as those of Jacob's Ladder or The Sixth Sense -- two stellar examples of the genre -- but it's still dramatically potent.

Los Angeles Times

10/30/2008 by Michael Ordoña

It's a long ride to a familiar destination.

Entertainment Weekly

10/29/2008 by Adam Markovitz

The actors make a noble effort, but Passengers turns out to be just another dud in the genre of revisionist mysteries that have been messing with our heads since Haley Joel Osment saw dead people.

Village Voice

10/29/2008 by Nick Pinkerton

The biggest shock (aside from seeing how arbitrarily movies are chosen for theatrical release) is provided by an intrusively blown newspaper.

Hollywood Reporter

10/27/2008 by Kirk Honeycutt

The film is a little too influenced by M. Night Shyamalan, which might be the wrong way to go given the reaction to his recent films.

Boxoffice Magazine

10/27/2008 by Amy Nicholson

In addition to aspiring to be a sensitive portrait of emotional healing, it's also a supernatural mystery, a romantic comedy, a family weepy and a corporate conspiracy drama. One plot might have satisfied audiences; fractions won't.

Variety

10/24/2008 by Justin Chang

This middlebrow tone poem aims for ambiguity but often veers into soporific, suspending answers (and often, viewer interest) en route to an ending that explains all.

Filmcritic.com

8/3/2009 by Jason McKiernan

spends too much time concealing its secret to fully realize its potential as a human drama.

Moviedex

8/1/2009 by Anders Wotzke

Initial intrigue turns into tedium and frustration as the plot heads into the territory of absurd.

Film Freak Central

7/1/2009 by Bryant Frazer

Fly me away, please, from this condescending supernatural twaddle.

Dread Central

6/25/2009 by Steve "Uncle Creepy" Barton

[Blu Ray] Call up your travel agent and book yourself on all expenses paid trip to a better movie.

Movie Metropolis

6/7/2009 by James Plath

A TV series and another film handled this concept with more grace and complexity.

DVDTalk.com

5/14/2009 by Brian Orndorf

It's a blurred pass at suspense and hesitant smooches, but with Hathaway and Wilson around to carry most of the workload, at least it's well acted.

Apollo Guide

5/6/2009 by Brian Webster

Special features on both standard DVD and Blu-ray include a full length audio commentary by director Rodrigo Garcia and actor Patrick Wilson.

Apollo Guide

5/6/2009 by Brian Webster

Filmmakers have the power to change reality on us at their whim, but if they do so in ways that make us feel tricked and cheated, then this is an unforgiveable rip-off.

Horror.com

5/6/2009 by Staci Layne Wilson

If you like haunting dramas, if plane crash scenes get you by the gonads, and if a cast with gravitas piques your interest, then the overlooked feature Passengers is definitely one for the DVD must-see list.
No one's rated or reviewed this product yet.