Past Cure
Phantom 8 Studio (digital) Sidewalk Games (retail)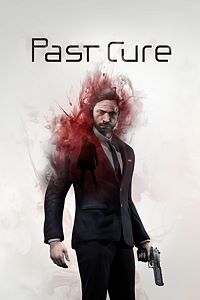 Past Cure is a dark psychological thriller that blurs the lines between dreams and reality. An intense, cinematic, story-driven experience that challenges the player to use mind-bending mental abilities to survive.
Description
Past Cure is a dark psychological thriller that blurs the lines between dreams and reality. An intense, cinematic, story-driven experience that challenges the player to use mind-bending mental abilities to survive. After years of torture, former elite soldier Ian lives in a safe house with his brother, struggling with memory loss and the effects of the experiments he was forced to endure. In an attempt to tap into the hidden power of the mind, his captors left him scarred with unrelenting nightmares, visions and unstable powers such as time manipulation and telekinesis. Driven by his desperate need for the truth and a thirst for revenge, Ian, assisted by his brother, sets out on a thrilling hunt for the masterminds of this conspiracy. He hopes to uncover exactly what his enemies have done to him and why? As Ian plunges into a criminal underworld in pursuit of his only lead, he is forced to use his mental powers more and more to survive. But with each use, his mind becomes ever more detached from reality, revealing the presence of an even darker force at play. Gameplay Features - A story driven supernatural thriller Past Cure is a cinematic, story driven experience where the player follows the struggle of a broken man searching for the missing pieces of his mind. With intense cutscenes and intriguing story items throughout the levels, the players can unravel a story that will keep them guessing until the end. - Action vs. Stealth Be bold and engage your enemies with time bending gun battles and brutal jaw crunching combos. Or pick the stealthy approach where evasion tactics and slick stealth takedowns allow you to outsmart your enemies in silence. Choose the right approach to each situation as there are pros and cons to each playing style. - Mind bending abilities Unleash the unlocked power of Ian's mind against those who unlocked it. To truly master the Past Cure experience, players must utilise time manipulation and astral projection to gain an edge on opponents and overcome obstacles. - Dreams vs reality Ians mind is torn between the gritty real world and the nightmarish horror of his dreams. Past Cure contrasts between the cold, brutal combat orientated levels of the real world, to the more puzzle solving and survival gameplay in the abstract dreamworlds.
Screenshots
Sign in with your Microsoft account to view. May contain mature content.
You may not access this content
Additional information
Published by
Phantom 8 Studio (digital) Sidewalk Games (retail)
Developed by
Phantom 8 Studio
Installation
Install on your home Xbox One console plus have access when you're connected to your Microsoft account.
Report this product
Report this game to Microsoft
Thanks for reporting your concern. Our team will review it and, if necessary, take action.
Sign in to report this game to Microsoft
Ratings and reviews
Thanks. Your review will post soon.
There was an error posting your review. Please try again later.
---
All user reviews
Filter by:
Sort by:
This game has no clue what it wants to be
A weird mix of Max Payne style levels, Silent Hill style levels, a puzzle game revolving around astral projectory, starring Yakov Smirnoff as a man with a mental disorder in a story about drugs and espionage, but with klunky, sometimes unresponsive controls. The graphics are nothing to write home about, and for some reason look low res, even on the X. The audio is blah. Overall, it's a game that needs to better marry its various elements together, as it feels like a mish mash of ideas instead of a cohesive package, but there is some fun to be had. Oh, and some of the checkpoints are abysmally spaced, and some stages drag on for far too long. If you're bored, this could be a rainy day game, or you could just play the shamefully underappreciated Quantum Break instead.
120 out of 125 people found this helpful.
2/26/2018
MockingBird96
Xbox
not sure
I really am trying to like this game. constantly glitching, sound cuts in and out, shooting is horrendous, stealth is like pulling teeth,checkpoints aren't consistent, and the lines are spoken without urgency.
33 out of 35 people found this helpful.
complete garbage
horrible aiming controlles an hourof doing the same thing and garbage voice acter if any thing the scariest thing in this game is the face animation save your 30$
86 out of 113 people found this helpful.
3/13/2018
Duckman 1979
Xbox
The little Engine that could
Past Cure is the latest game getting a lot of over the top negativity by the "Trusted" internet gamers. While the game isn't perfect it's a solid ambitious budget title. the biggest problem w/ this game, it has no true identity of it's own. The developers took elements from Alan Wake,Max Payne, Silent Hill, & Psi-Ops mashed all them up & got Past Cure! @ first it seems very jaring & manic but, all this adds a oddball charm to the game. Controls are hinky at first (Adjust the controls it'll help a lot) Audio is top notch from the v/o cast to soundtrack, and sound F/X (best in DTS 5.1) Graphics are hit & miss (keep in mind this is a indie budget title) something nobody seems to bring up. The story is extremely smart & engaging it's deeper then you'd think! This game is further proof how hypothetical gamers are (mostly online) They love to c/o about wanting games that are different & unique then when anything different comes along they knock-it & try to bury it! 7/10
20 out of 25 people found this helpful.
2/28/2018
InhumanCreator
Xbox
Avoid This Game
Last boss battle is long, has no checkpoints, full of terribly executed quick-time events, loaded with glitches (sometimes you'll get hit & can't move afterwards). Wanted to love this game but it's just bad. There are a few moments where it shows potential but they're few & far between.
6 out of 7 people found this helpful.
3/6/2018
StrickenGamer1
Xbox
Brick
Not sure what it is other than terrible
21 out of 31 people found this helpful.
3/1/2018
CastledSugar546
Xbox
Not as bad as some r saying
So far its good.Yes the graphics r a little rough,but games aren't just graphics its the story and this seems good.
17 out of 28 people found this helpful.
3/2/2018
x Destroy ALL x
Xbox
decent story and music but terrible controls.
likes. good ragdoll physics, music ,the potential,. hates. horrible controls very clunky kinda of boring very bad checkpoints. short length. over all not a a fun experience. not worth 30 . ten or 5 $ . quantum break is much better
4 out of 6 people found this helpful.
3/27/2018
The UnBroKens
Xbox
3 out of 5 people found this helpful.
3/2/2018
kibawhitewolf25
Xbox
its not to bad but left more qestoins then anwers
i enjoyed this past its flaws but what killed for me was the over lvls some times look repetavie and the recolie on the gun were bad and of corse the games ending i was abit disaponted but this game was made by 8 ppl so so what they manged to do with such a samll studio makes you wwonder what the game wold have been with a biger budget and a bigger studio
12 out of 28 people found this helpful.
Thank you for your feedback.
Sorry, something went wrong. Please try again.