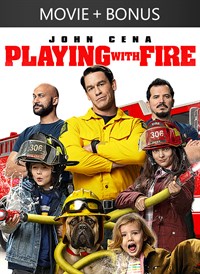 Available on
Xbox One
HoloLens
PC
Mobile device
Xbox 360
Description
When straight-laced fire superintendent Jake Carson and his elite team of expert firefighters come to the rescue of three siblings in the path of an encroaching wildfire, they quickly realize that no amount of training could prepare them for their most challenging job yet – babysitters. Unable to locate the children's parents, the firefighters have their lives, jobs and even their fire depot turned upside down and quickly learn that kids – much like fires – are wild and unpredictable.
Bonus content
Deleted Scenes: Get This Depot Ready
Deleted Scenes: Don't Take It Personal
Deleted Scenes: You Should Be The Next Division Commander
Deleted Scenes: Starboard Side
Deleted Scenes: Let's Try This Again
Deleted Scenes: We Gotta Find A Way Outta Here
Deleted Scenes: Please Stop Crying
Deleted Scenes: Is That Your Girlfriend?
Deleted Scenes: You're A Real Hero
Deleted Scenes: ATV Escape
Deleted Scenes: Jalapeño Chocolate Cake
Deleted Scenes: This Is A Fupa
Deleted Scenes: I Got You Something Too
The Director's Diaries: Read By Star Cast
What it Means to Be A Family
The Real Smokejumpers: This Is Their Story
Additional information
Genres
Comedy
Drama
Family
Size
5.37 GB (1080p HD)
3.36 GB (720p HD)
2.69 GB (SD)