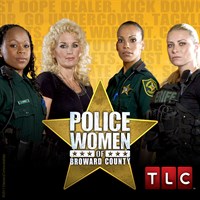 Available on
Xbox One
HoloLens
PC
Mobile device
Xbox 360
Description
Watch the fast-paced action surrounding four female deputies at the Broward County Sheriff's Office. Viewers are taken inside the real-life drama of women in law enforcement as they juggle their personal lives with demanding and often dangerous jobs. From robberies to homicides, drug busts to domestic violence, these fearless women put their lives on the line to keep the streets safe.
Episodes
1. Justice Has Been Served
4. A Surprise Party With Guns!
6. Early Bird Gets the Worm
7. You Can't Karate Chop a Car
8. You're My Kind of Woman
10. Tore Up from the Floor Up
12. These Are Somebody Else's Pants
Additional information
Duration
13 episodes (9 h 13 min)