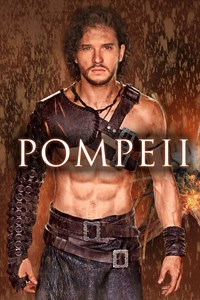 Tomatometer®
Audience
ChristyLemire.com

2/23/2014 by Christy Lemire

Is it wrong to root for the volcano?

Time Out

2/21/2014 by Joshua Rothkopf

Parmageddon is nigh in this cheesy action melodrama that feels both overheated with plot developments, yet strangely curdled from a lack of histrionics that might have redeemed it as fun trash.

Chicago Reader

2/21/2014 by Drew Hunt

Narrative has never been Anderson's strength; the story here is a corny overhaul of James Cameron's already-corny Titanic.

Grantland

2/21/2014 by Wesley Morris

No matter how much lava is afoot, there's always time to impale one more person with a sword.

Globe and Mail

2/21/2014 by Liam Lacey

A mindless but watchable fondue pot of high-calorie visuals and ready-made plotting ...

New York Magazine/Vulture

2/21/2014 by Bilge Ebiri

More fun than any civilization's fiery extinction should ever be, Paul W.S. Anderson's Pompeii 3-D is gloriously exciting kitsch - a poor man's Titanic crossed with an even poorer man's Gladiator.

Entertainment Weekly

2/21/2014 by Owen Gleiberman

Pompeii, the new historical-kitsch disaster movie, raises the question: Is there something about ancient classical settings that inspires actors to act badly?

ReelViews

2/21/2014 by James Berardinelli

Pompeii is a big, glorious, cheesy mess.

Newark Star-Ledger

2/21/2014 by Stephen Whitty

It's a spectacle all right - but mostly just of a lot of people, some of whom should know better, making an utter ash of themselves.

RogerEbert.com

2/21/2014 by Glenn Kenny

The action scenes are choice, and once the clouds of ash and shooting fire and churning seas start up, "Pompeii" achieves a momentum that most sensationalist studio fare can't touch.

AV Club

2/20/2014 by Ignatiy Vishnevetsky

Like its director's horror hybrids, Pompeii values self-determination over survival, which makes for better, brisker, less convoluted genre storytelling.

Fort Worth Star-Telegram/DFW.com

2/20/2014 by Cary Darling

Pompeii has as much to do with realism and history as the average gas station has with gourmet cuisine and fine dining. If you're hankering for something substantive, you'll leave hungry.

NPR

2/20/2014 by Ian Buckwalter

If there were a hint of a sense of play or humor in the filmmaking, beyond a briefly amusing moment of comeuppance for a foppish slaveowner, Pompeii might be a fun February diversion instead of a dull, eye-rolling slog.

USA Today

2/20/2014 by Claudia Puig

Pompeii is a Titanic wannabe with a romance between a rich girl and a poor boy set against a natural disaster.

New York Times

2/20/2014 by Miriam Bale

In "Pompeii," Mr. Anderson's latest 3-D extravaganza, and his first film without Ms. Jovovich since 2008, he seems to be without visual focus.

Washington Post

2/20/2014 by Stephanie Merry

Harington transformed his body for the role, but here's the real disaster: His startlingly defined six-pack abs are the most memorable part of his character.

Los Angeles Times

2/20/2014 by Gary Goldstein

Part sword-and-sandal spectacle, part disaster epic, "Pompeii" accomplishes its ambitious agenda to largely engrossing effect.

Boston Globe

2/20/2014 by Tom Russo

You wonder if Paul W.S. Anderson is a director who might feel disrespected.

Arizona Republic

2/20/2014 by Barbara VanDenburgh

One of the most bloodless films to ever kill thousands of people in a fell swoop.

Toronto Star

2/20/2014 by Peter Howell

The drama is deadly but the volcano's a blast, making Pompeii something less than the complete disaster you might expect.
No one's rated or reviewed this product yet.