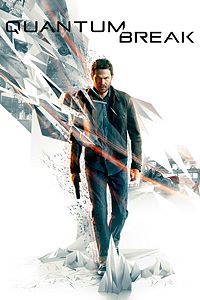 A blockbuster game with time-amplified action and a suspenseful storyline brought to life in a way never done before by fusing gameplay and a gripping live action show. Time itself becomes fractured in a time travel experiment, Jack Joyce fights the secretive Monarch Solutions to put things right before it's too late. The actions you take and choices you make shape your experience in the show, creating a new and unique entertainment experience.
Description
In the aftermath of a split second of destruction that fractures time itself, two people find they have changed and gained extraordinary abilities. One of them travels through time and becomes hell-bent on controlling this power. The other uses these new abilities to attempt to defeat him – and fix time before it tears itself irreparably apart. Both face overwhelming odds and make dramatic choices that will determine the shape of the future. Quantum Break is a unique experience; one part hard-hitting video game, one part thrilling live action show, featuring a stellar cast, including Shawn Ashmore as the hero Jack Joyce, Aidan Gillen as his nemesis Paul Serene and Dominic Monaghan as Jack's genius brother William. Quantum Break is full of the vivid storytelling, rich characters and dramatic twists Remedy Entertainment are renowned for. Your choices in-game will affect the outcome of this fast-paced fusion between game and show giving the player a completely unique entertainment experience.
Screenshots
Sign in with your Microsoft account to view. May contain mature content.
You may not access this content
Additional information
Published by
Microsoft Studios
Developed by
Remedy Entertainment
Approximate size
102.56 GB
Installation
Install on your home Xbox One console plus have access when you're connected to your Microsoft account.
Report this product
Report this game to Microsoft
Thanks for reporting your concern. Our team will review it and, if necessary, take action.
Sign in to report this game to Microsoft
Ratings and reviews
Thanks. Your review will post soon.
There was an error posting your review. Please try again later.
---
All user reviews
Filter by:
Sort by:
Thank you for your feedback.
Sorry, something went wrong. Please try again.