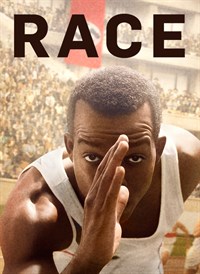 The incredible true story of Olympic legend Jesse Owens' quest for gold by facing off against Adolf Hitler's Germany as well as overcoming racial prejudice in America.
Once you select Rent you'll have 14 days to start watching the movie and 24 hours to finish it.
Available on
Xbox One
HoloLens
PC
Mobile device
Xbox 360
Description
The incredible true story of Olympic legend Jesse Owens is vividly brought to life in Race. In his epic quest to be the greatest athlete in history, Owens (Stephan James, Selma) chooses to compete in the 1936 Berlin Olympics, where he must overcome not only elite competition, but also the brutal racial climate of Adolf Hitler's Germany. Also starring Jason Sudekis (We're the Millers) and Academy Award winners Jeremy Irons and William Hurt, Race is a film about courage, determination, tolerance, friendship and trust that critics are calling "Movie magic!" (Brian Truitt, USA TODAY).
Additional information
Directors
Stephen Hopkins
Age rating
Writers
Anna Waterhouse
Joe Shrapnel
Writers
Anna Waterhouse
Joe Shrapnel
Size
8.05 GB (1080p HD)
3.8 GB (720p HD)
2.83 GB (SD)
Size
8.05 GB (1080p HD)
3.8 GB (720p HD)
2.83 GB (SD)
| | |
| --- | --- |
| Windows | Windows 8, Windows 8.1, Windows 10 or later |
| Xbox | Xbox 360, Xbox One, Xbox One S, Xbox One X |
| Mobile | Windows Phone 8, Windows Phone 8.1, Windows 10 or later |

Tomatometer®
Audience
Toronto Sun

2/23/2016 by Jim Slotek

---

A glossy, superficial biopic set in a historical context that begs for more, Race can at least claim to be one of the two best movies ever made about Olympic hero/Hitler-embarrasser Jesse Owens.

New Yorker

2/22/2016 by Richard Brody

---

A wallpaper-thin but sentimentally effective hagiography.

ReelViews

2/21/2016 by James Berardinelli

---

The bare necessities are there, the performances are competent, and there are some strong moments but Race suffers from a lack of ambition. It's too safe and that quality mutes its impact and limits its ability to be more than a history lesson.

Time Out

2/19/2016 by Joshua Rothkopf

---

Race is the most timid, lackadaisical movie that could have been made out of potentially classic material.

TIME Magazine

2/19/2016 by Stephanie Zacharek

---

Where is Owens in all of this? By the end of Race, we don't know much more about him as an individual than we did when the movie began.

Village Voice

2/19/2016 by Scott Tobias

---

Race follows the pattern of so many other sports biopics in which it's white patronage that makes black triumphs possible.

NPR

2/19/2016 by Ella Taylor

---

A handsomely mounted drama about a pivotal moment in the life of track star Jesse Owens ...

The Atlantic

2/19/2016 by David Sims

---

Race wants to end, unsurprisingly, on a note of uplift-but for a film with so much dark, unexplored potential, it's an unsatisfying finish line to cross.

Globe and Mail

2/19/2016 by Kate Taylor

---

Hopkins films all the races with suitable lan - since Owens was a sprinter, accomplishing his feats in a matter of seconds, they are relatively easy to dramatize - but you don't leave the theatre with much understanding of how he did it.

Detroit News

2/19/2016 by Adam Graham

---

A so-so movie about an extraordinary athlete.

Chicago Sun-Times

2/18/2016 by Richard Roeper

---

"Race" tells the story of a brave and gifted and determined man who accomplished great feats during a pivotal moment in world history - but it's a by-the-numbers sports biopic with little nuance and a penchant for saccharine-soaked dramatic moments.

Tribune News Service

2/18/2016 by Katie Walsh

---

While the film itself is a sometimes mediocre feel-good sports biography, it's hard not to be swept up by Owens' strength of character and seeing his incredible story on screen.

Wall Street Journal

2/18/2016 by Joe Morgenstern

---

It's a saga of unquenchable spirit and fast-twitch muscles shot in slow-twitch style.

Boston Globe

2/18/2016 by Ty Burr

---

"Race" wants so badly to get every last bit of the big picture that it dashes past the little details that actually tell a story. Like an over-trained athlete who pulls a hamstring in the big race, the movie tries to do it all and comes up short.

New York Post

2/18/2016 by Kyle Smith

---

"Race" is disappointing in parts, but Stephan James makes for an appealing star ...

Toronto Star

2/18/2016 by Linda Barnard

---

Owens's story is certainly one that needs telling, although Race isn't as strong as it could be, even if it does include a larger narrative than one man's rise to greatness.

Rolling Stone

2/18/2016 by Peter Travers

---

Director Stephen Hopkins plods when he needs to sprint, but Jesse Owens is a great movie subject. His triumph at the 1936 Olympics left Hitler to suck it up and watch a black man shatter his cuckoo theories of an Aryan master race.

San Diego Reader

2/18/2016 by Matthew Lickona

---

Overstuffed, muddy-headed, heavy-handed, derivative, and weirdly sanitized - and yet it almost works, because who wouldn't thrill to see a black man take on Nazi ideology on the world stage?

New York Times

2/18/2016 by Stephen Holden

---

"Race" reminds us that long before television elevated black sports heroes into gods, there were athletes like Jesse Owens who paved the way.

Philadelphia Inquirer

2/18/2016 by Tirdad Derakhshani

---

The film delivers what it promises - an education and a thrill.
Portions of content provided by Tivo Corporation - © 2019 Tivo Corporation