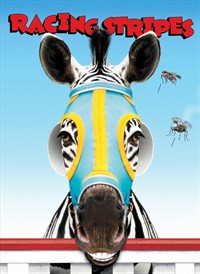 Tomatometer®
Audience
AV Club

10/6/2006 by Nathan Rabin

Part earnest, old-fashioned melodrama, part wisecracking broad comedy, Racing Stripes is a film divided against itself.

New York Post

1/24/2005 by Russell Scott Smith

A predictable but pleasant kids movie.

USA Today

1/14/2005 by Mike Clark

Almost everyone in this has done better, and those who haven't, like young Ms. Panettiere, have plenty of time to do so.

Toronto Star

1/14/2005 by Susan Walker

There's much to laud in Racing Stripes.

Seattle Times

1/14/2005 by Moira MacDonald

Bland but likable kids' movie.

San Francisco Chronicle

1/14/2005 by Carla Meyer

Offers enjoyable moments.

Orlando Sentinel

1/14/2005 by Roger Moore

It stumbles right out of the gate.

Newark Star-Ledger

1/14/2005 by Stephen Whitty

The humor never rises very far above the barnyard.

New York Daily News

1/14/2005 by Elizabeth Weitzman

The special effects here are surprisingly smooth, and everyone seems to be having fun.

Globe and Mail

1/14/2005 by Liam Lacey

A hackneyed mix of sentimentality and anarchic comedy.

Detroit Free Press

1/14/2005 by John Monaghan

Even by the dubious standards of talking animal movies, this one is routine.

Denver Post

1/14/2005 by Lisa Kennedy

Racing Stripes is hardly a Triple Crown winner. But for a Saturday afternoon with the kids, it's a safe bet.

Chicago Sun-Times

1/14/2005 by Roger Ebert

This is the kind of movie you might grab at the video store, but it's not worth the trip to the theater.

Boston Globe

1/14/2005 by Ty Burr

Simultaneously overplotted and simplistic, the new barnyard/racecourse comedy from Warner Brothers is predictable every step of the way, and it contains at least three too many poop jokes.

Fort Worth Star-Telegram/DFW.com

1/14/2005 by Scott Von Doviak

A veritable barnyard full of guest celebrity voices, doing their best to liven up a mediocre Babe wannabe.

Los Angeles Times

1/13/2005 by Kevin Thomas

Should delight youngsters, although parents likely will find it is sentimental in the extreme, with a plot that telegraphs every development.

Washington Post

1/13/2005 by Desson Thomson

Although this film about a zebra who aspires to win horse races has a marvelous premise, it slows to a mediocre canter right out of the starting gate.

New York Times

1/13/2005 by Dana Stevens

Racing Stripes is unlikely to ascend to the pantheon of perennially watchable children's films, but like its hero, what it lacks in skill, it makes up for in heart.

Dallas Morning News

1/13/2005 by Nancy Churnin

Setting up a race in which you root for the misfit is the 'oldest trick in the book,' to quote a phrase Tucker the horse likes to use in Racing Stripes. But as Tucker adds: 'Works every time.' That it does.

Arizona Republic

1/13/2005 by Randy Cordova

It's all familiar and unsurprising, but not without its modest pleasures.
No one's rated or reviewed this product yet.