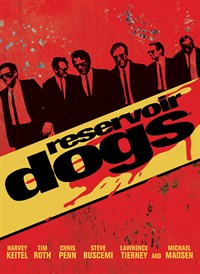 Tomatometer®
Audience
94 %
445,378 user reviews
Boston Globe

4/27/2018 by Jay Carr

And while Tarantino never quite succeeds in putting around each character the sense of isolation that marks the best noirs, he carries off this exercise in lively fashion. It's more purple than noir, but it's got juice.

New York Daily News

1/21/2016 by Kathleen Carroll

The exaggerated raw violence of "Reservoir Dogs" leaves one feeling cheated in the end. For this movie isn't really about anything. It's just a flashy, stylistically daring exercise in cinematic mayhem.

New Yorker

6/26/2013 by Terrence Rafferty

The film, for all its mayhem and fury, is too distant to be truly disturbing; it treats everything with an impatient, born-too-late shrug.

Orlando Sentinel

6/26/2013 by Jay Boyar

A brash, brutal crime-caper film, Reservoir Dogs has enough raw energy for 10 motion pictures and more than enough rough stuff to traumatize the sensitive. But not only does Dogs have teeth, it has brains.

Los Angeles Times

6/26/2013 by Kenneth Turan

Tarantino's palpable enthusiasm, his unapologetic passion for what he's created, reinvigorates this venerable plot and, mayhem aside, makes it involving for longer than you might suspect.

Chicago Tribune

6/26/2013 by Gene Siskel

A much-acclaimed revisionist gangster film that I found to have more style than substance.

Entertainment Weekly

9/7/2011 by Owen Gleiberman

Tarantino, in Reservoir Dogs, has made a nihilist comedy about how human nature will always undercut the best-laid plans.

Newsweek

3/31/2008 by David Ansen

Reservoir Dogs is a bad boy's movie, show-offy and more than a little decadent. Its saving grace, and its limitation, is in its cool cartoonishness. It never invites any real emotional identification with these crooks.

Variety

3/13/2007 by Todd McCarthy

Undeniably impressive pic grabs the viewer by the lapels and shakes hard, but it also is about nothing other than a bunch of macho guys and how big their guns are.

Chicago Reader

3/13/2007 by Jonathan Rosenbaum

It's unclear whether this macho thriller does anything to improve the state of the world or our understanding of it, but it certainly sets off enough rockets to hold and shake us for every one of its 99 minutes.

Globe and Mail

3/13/2007 by Rick Groen

It's dynamite on a short fuse.

Entertainment Weekly

2/27/2007 by Ty Burr

You may not like the terms Tarantino sets, but you have to admit he succeeds on them.

Time Out

2/9/2006 by Wally Hammond

A tour de force.

New York Times

5/20/2003 by Vincent Canby

A small, modestly budgeted crime movie of sometimes dazzling cinematic pyrotechnics and over-the- top dramatic energy.

Hollywood Reporter

10/15/2002 by Duane Byrge

Those who survive it emerge in a shell-shocked euphoria -- so good and so blunt is the writing.

Film.com

1/1/2000 by John Hartl

It's extremely well-acted, written with flair and directed by a 29-year-old first-timer, Quentin Tarantino, who always knows where to put the camera, when to cut to a flashback and how to draw the best work from his brilliant cast.

ReelViews

1/1/2000 by James Berardinelli

The writing is crisp and clean, providing line after line of snappy dialogue designed to leave the viewer alternately pondering and laughing aloud.

Chicago Sun-Times

1/1/2000 by Roger Ebert

The movie feels like it's going to be terrific, but Tarantino's script doesn't have much curiosity about these guys.

Washington Post

1/1/2000 by Hal Hinson

It's brutal, it's funny and you won't forget it.
No one's rated or reviewed this product yet.