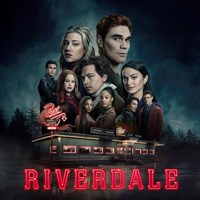 Description
Things aren't always what you expect in Riverdale. Based on the characters from Archie Comics, Riverdale is a bold drama with a subversive take on a surreal, small-town life. As a new school year begins, the town of Riverdale is reeling from the tragic death of high school golden boy Jason Blossom — and nothing feels the same.
Episodes
1. Chapter Seventy-Seven: "Climax"
2. Chapter Seventy-Eight: "The Preppy Murders"
3. Chapter Seventy-Nine: "Graduation"
4. Chapter Eighty: "Purgatorio"
5. Chapter Eighty-One: "The Homecoming"
6. Chapter Eighty-Two: "Back to School"
101. Riverdale: Season 5 Trailer
Additional information
Duration
7 episodes (4 h 13 min)