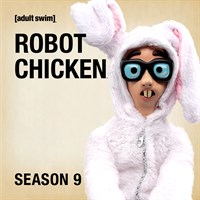 Original price was $24.99, current price $16.99
Original price was $24.99, current price $16.99
Available on
Xbox One
HoloLens
PC
Mobile device
Xbox 360
Description
Robot Chicken uses stop-motion animation to bring pop-culture parodies to life in a modern take on the variety/sketch show format. The Emmy Award®-winning series began airing in February 2005 and remains among the top-rated original series on Adult Swim.
Episodes
1. Freshly Baked: The Robot Chicken Santa Claus Pot Cookie Freakout Special: Special Edition
2. Hey I Found Another Sock
4. Things Look Bad for the Streepster
5. Mr. Mozzarella's Hamburger Skateboard Depot
6. Strummy Strummy Sad Sad
7. 3 2 1 2 3 3 3, 2 2 2, 3…6 6?
8. We Don't See Much of That in 1940s America
10. Factory Where Nuts Are Handled
12. Shall I Visit the Dinosaurs?
13. What Can You Tell Me About Butt Rashes?
14. Gimme That Chocolate Milk
16. Jew #1 Opens a Treasure Chest
17. He's Not Even Aiming at the Toilet
18. Your Mouth is Hanging off Your Face
19. No Wait, He Has a Cane
Extra: Season 9 Sneak Peek
Additional information
Duration
20 episodes (3 h 43 min)