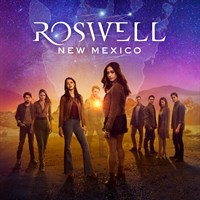 In the final moments of season one, Max Evans used his alien powers to resurrect Rosa a decade after her murder... not realizing that he was sacrificing his own life in the process. In season two, Liz mourns her lost love by seeking comfort in science, both earthly and extraterrestrial, as Rosa turns to Kyle for help, Isobel explores self-defense, and Michael spirals into some old bad habits.
Buy season pass and get all current and future episodes of season 2
Available on
Xbox One
HoloLens
PC
Mobile device
Xbox 360
Description
Based on the Roswell High books, ROSWELL, NEW MEXICO is a love story, a relationship drama and the story of a small town…which happens to have aliens. Romantic and emotional, this is a story about people who feel like outsiders in their world — all alienated for different reasons, whether in their community, in society or even in Roswell.
Episodes
Stay (I Missed You)
Season 2, Episode 1 Unrated CC HD CC SD
Torn between the heartache of Max's sacrifice and the joy of Rosa's resurrection, Liz suppresses her grief to focus on moving out of Roswell with Rosa. Meanwhile, Michael copes with Max's death in his own self-destructive way, while Isobel focuses her attention on honing her alien powers. Finally, Liz makes an alarming discovery after Rosa begins experiencing mysterious side effects from her resurrection.
2. Ladies and Gentlemen We Are Floating in Space
Ladies and Gentlemen We Are Floating in Space
Season 2, Episode 2 Unrated CC HD CC SD
Liz is forced to put her latest experiment on hold after Rosa begins to struggle with her new life in Roswell. Reluctant to face the truth about his mother's past, Michael turns his attention to helping Maria who is dealing with her own family crisis. Elsewhere, Isobel agrees to join her mother for a day of spiritual healing to keep herself distracted. Finally, Rosa turns to Kyle to learn the truth about what really happened the night she died.
Good Mother
Season 2, Episode 3 Unrated CC HD CC SD
Alex (TYLER BLACKBURN) and Michael work together to unravel the mystery surrounding the night Nora's spaceship crashed in 1947. JASON BEHR guest stars.
4. What If God Was One Of Us?
What If God Was One Of Us?
Season 2, Episode 4 Unrated CC HD CC SD
On the verge of a breakthrough in her quest to save Max, Liz turns to Kyle for one last favor that could potentially land him in hot water. Meanwhile, Michael and Alex's investigation into Nora (guest star KAYLA EWELL) leads them to a farm, where they meet a historian named Forrest (guest star CHRISTIAN ANTIDORMI). Elsewhere, Jenna Cameron (recurring guest star RILEY VOELKEL) confronts Jesse Manes about her sister's whereabouts, and Isobel uses her powers for good.
I'll Stand By You
Season 2, Episode 5 Unrated CC HD CC SD
The discovery of some complications with Max's pod forces Liz, Michael and Isobel to confront the possibility that they may not be able to save him. Elsewhere, Maria and Alex make amends.
Sex and Candy
Season 2, Episode 6 Unrated CC HD CC SD
Maria's investigation into her mother's disappearance leads her and Alex to the home of a mysterious boot maker named Travis (guest star DAVID ANDERS). Meanwhile, on her journey of self-discovery, Isobel's night out leads her into the arms of someone unexpected. Finally, after making some major scientific strides, Liz is dealt a devastating blow.
Como La Flor
Season 2, Episode 7 Unrated CC HD CC SD
Liz is forced to revisit a painful part of her past when her mother shows up at the diner unexpectedly; Michael urges Maria to seek help after she experiences a strange vision; Kyle's attempt to get Steph to open up doesn't go as planned.
Say It Ain't So
Season 2, Episode 8 Unrated CC HD CC SD
Despite promising that he'll take things easy with his new heart, Max sets out to find Cameron after learning that she's gone missing; and Rosa makes a decision about her future.
The Diner
Season 2, Episode 9 Unrated CC HD CC SD
After uncovering a surprising connection to their past, Michael and Isobel learn the painful truth about the night Tripp attacked their mothers; Alex confronts his father about their family history. Kyle's first date with Steph takes an awkward turn.
American Woman
Season 2, Episode 10 Unrated CC HD CC SD
After uncovering a cryptic message from the past, Alex, Isobel, Max, Michael and Maria set out in search of answers at the reservation where Alex's mother grew up. Meanwhile, Cameron encourages Liz to reach out to someone from her past after her father, Arturo (guest star CARLOS COMPEAN) gets detained.
Linger
Season 2, Episode 11 Unrated CC HD CC SD
While Max enlists Kyle's help in getting to the bottom of the recent abductions, Michael does his own investigating into Alex's disappearance.
Crash Into Me
Season 2, Episode 12 Unrated CC HD CC SD
As the town prepares for CrashCon, Liz and Max attempt to piece together who may be behind a potentially deadly plan targeting the festival. Elsewhere, Maria and Isobel take drastic measures to learn more about the night Mimi (recurring guest star SHERRI SAUM) disappeared, while Michael is forced to do someone else's bidding.
Mr. Jones
Season 2, Episode 13 Unrated CC HD CC SD
After learning of a deadly threat, Liz realizes that she can't save everyone – and with Max in danger, she and Isobel must make a heart-wrenching choice in the season finale.
Additional information
Duration
13 episodes (9 h 10 min)
Duration
13 episodes (9 h 10 min)
| | |
| --- | --- |
| Windows | Windows 8, Windows 8.1, Windows 10 or later |
| Xbox | Xbox 360, Xbox One, Xbox One S, Xbox One X |
| Mobile | Windows Phone 8, Windows Phone 8.1, Windows 10 or later |
Ratings and reviews
No one's rated or reviewed this product yet.
Thanks. Your review will post soon.
There was an error posting your review. Please try again later.
Portions of content provided by Tivo Corporation - © 2020 Tivo Corporation