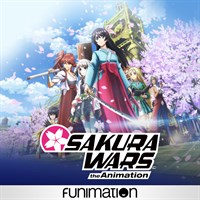 Description
The new Imperial Combat Revue's Flower Division gets a new captain and must fend off a demon invasion while continuing to put on shows.
Episodes
1. The Curtain Rises! The New Combat Revue
2. Identity Unknown! A Mysterious Foe Appears
3. Tokyo Trembles! The New Moscow Combat Revue!
4. Friendship in Full Bloom! Thousand Year Cherry Blossoms!
5. The Goofball Detective Combo! Find Klara's Secret!
6. Strange and Bizarre! The True Identity of Black Cape!
7. Stealth Mission! Tail the Date!
8. No End to the Chaos! The Combat Revue Challenge!
9. Unbelievable! The Truth About Klara!
10. The Destruction of Tokyo? The Rage of Tunguska!
11. A Fantastic, Tragic Love! Leyla's Heart!
12. The Grand Finale! Hope for Tomorrow!
Additional information
Age rating
Genres
Action/Adventure
Animation
Duration
12 episodes (4 h 45 min)