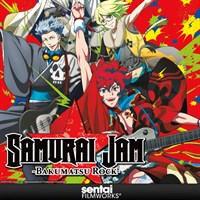 Available on
Xbox One
HoloLens
PC
Mobile device
Xbox 360
Description
Right around the middle of the 19th century, the dark overlords of the Late Tokugawa Shogunate ruled Japan with an iron fist. Because of this, the top idols in Shinsengumi are ordered to sing only Heaven's Songs to brainwash and subjugate the masses, making writing or singing any songs besides Heaven's Songs a capital offense. Enter: Sakamoto Ryouma and his Masters of the martial art OF ROCK! They must take charge as they change the old ways of a grumpy old guard while singing for what is just!
Episodes
1. Peace Soul! Let's Rock!
2. Top Idol! Rampage at a Concert!
4. Bath Concert! Let's Get Passionate Naked!
5. Peaceful! Heaven's Song is Wild!
6. Royal Concert! Rocker's Hearts are Moved to Tears!
7. Rockers! Let's Form a Band!
8. Dark Cherries! Death to Rock
9. Mask the Rocker! The Soul Is Important!
10. Solo Debut! We Can't Play Together Anymore!
11. Heaven's Song! Time for the Climax
12. Ultra Soul! The Dawn of Rock!
Additional information
Age rating
Genres
Action/Adventure
Anime
Comedy
Duration
12 episodes (4 h 57 min)