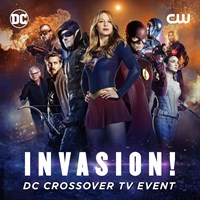 Description
Arrow, The Flash, Supergirl and DC's Legends of Tomorrow team up for this season's epic four-series DC Crossover Event. Taking inspiration from a cult DC Crossover known as Invasion! which features an unstoppable alien race known as the Dominators, the supercharged three-part event involves DC Super Heroes from each of the four hit series. Across three nights of mega "Arrowverse" programming (including Arrow's 100th episode), Barry Allen and the team at S.T.A.R. Labs join up with Team Arrow and the Legends of Tomorrow with an assist from Supergirl to fight off the extraterrestrial menace that threatens Earth's very survival. Based on renowned comics artist Todd McFarlane's interpretation of the Dominators, the four-way Invasion! crossover features cutting edge prosthetics and digital effects to bring the Dominators to life.
Episodes
1. The Flash: Season 3 Episode 8 Invasion!
2. Arrow: Season 5 Episode 8 Invasion!
3. DC's Legends of Tomorrow: Season 2 Episode 7 Invasion!
Additional information
Genres
Action/Adventure
Drama
Sci-Fi/Fantasy
Duration
3 episodes (2 h 6 min)